PSA: Teach Your Toddlers How To Make An Emergency Phone Call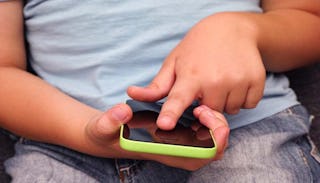 4-year-old saves his mom's life with a phone call
We're often so focused on making sure our kids don't get their hands on our phones that we forget how important it is for them to know, from a very young age, how to unlock and operate them. Everyone used to have a home phone that lived in a particular place. Now, if an emergency happens, our kids need to be able to navigate finding our phones — and getting into them.
One Dallas mother learned just how important a lesson this was, when her 4-year-old saved her life. That's right, he saved her life… by knowing how to use her phone.
Last weekend, Misty Vaughn thought she had a flu. Her fever kept rising, the last thing she remembers is reading 105 on a thermometer. Then she passed out. Her doctor thinks she may have had a seizure.
Her 4-year-old son Jeremy was able to find her phone, unlock it, and find his dad's photo at the top of the favorite's screen. USA Today reports that he called his father and said, "Daddy I need you to come home! Mommy can't get in the bath because she can't wake up." Misty Vaughn's doctor believed that phone call saved her life: "It saved her life … as simple as that," said Dr, Ousama Moammar, of Methodist Charlton Medical Center in Dallas. "Acting early and fast is really of the essence."
We all know how to keep our kids out of our phones, by hiding them and password protecting them. It's also important that they know how to get into them. If you don't have a home phone, you may reconsider locking it when you are home alone with your kids. It's never too early to teach prevention. Just as our parents taught us how to memorize numbers of family and dial 911, we need to teach our children how to navigate these devices at a young age, so that they can deal with an emergency situation if it arises. It's really never too young. Hand a 2-year-old a phone and see what happens — they navigate them like little pros. It's like this generation was born to navigate technology.
It's a simple lesson that — the Vaughn family will confirm — can be lifesaving.
This article was originally published on