Adele's Grammy Speech Made Beyoncé Cry And Floored The Entire Internet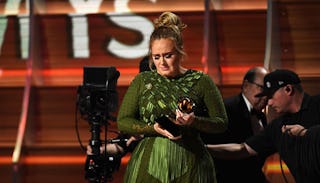 Image via Kevork Djansezian/Getty Images
Adele used her Grammy moment to shout out motherhood — and Beyoncé
Last night, Adele won Album of the Year for 25 at the 2017 Grammy Awards. At the same time became a mouthpiece for struggling moms everywhere, by once again being honest about her struggles with motherhood — in the most public way possible. She also acknowledged that someone else should probably be standing in her place.
"As you can see it took an army to make me strong and willing again… Five years ago, when I was last here, I also was pregnant and I didn't know, and I was awarded that — I found out shortly after — which was the biggest blessing of my life," she began her acceptance speech. "And in my pregnancy and through becoming a mother, I lost a lot of myself. And I've struggled, and I still do struggle being a mum — it's really hard. But tonight winning this kind of feels full circle, and a bit of me has come back to myself."
Motherhood is fucking hard. There's nothing wrong with admitting it's hard. There's nothing wrong with admitting you miss your pre-child self, or that you don't recognize your life, or that it can sometimes feel like a constant struggle. It doesn't mean you love your child any less. It means you're human. And the more we acknowledge just how isolating and difficult motherhood can be — the better off we all are. Moms out there who feel like you're falling apart at times — you are not alone. Adele used her moment last night to remind you of that.
But the aspect of her acceptance speech that really stopped the crowd? She humbly acknowledged that she didn't deserve the win.
What?! Didn't deserve the win? She's Adele! — you may be thinking. The album is amazing, Adele is amazing — and no one is contesting the fact that Adele is unbelievably talented and deserving of all the awards. But the Grammys not recognizing Beyoncé's Lemonade as the most epic album of the year may have just been the biggest shun, ever. Lemonade wasn't just an album — it came with its own HBO film and managed to be a cinematic, musical, and political masterpiece. Adele wasn't about to ignore that. So she spent the bulk of her acceptance speech honoring her musical hero — Beyoncé.
"I can't possibly accept this award," she said. "And I'm very humbled and I'm very grateful and gracious, but my artist of my life is Beyoncé, and this album to me — this Lemonade album was just, so monumental — and so well thought out and so beautiful and soul-bearing and we all got to see another side to you that you don't always let us see and we appreciate that. All us artists here, we adore you — you are our light. And the way you make me and my friends feel — the way you make my black friends feel is empowering — you make them stand up for themselves and I love you and I always will."
It's almost as if the universe agreed with her. After her speech, the Grammy accidentally split in half.
She told the press after the Grammys, "I think it was her time to win. I feel like, what the fuck will she have to do to win Album of the Year?" Album of the year hasn't got to a black woman in almost two decades. "Like I said in my speech," she said. "For me my album for you was Lemonade, so a piece of me did die inside as a Beyoncé fan. I'm not going to lie, cause I was completely rooting for her — I voted for her."
Honesty and standing up for your girls? Adele is definitely our mom BFF for life.
This article was originally published on