Amazon Delivery Driver Caught On Video Sh*tting In Customer's Driveway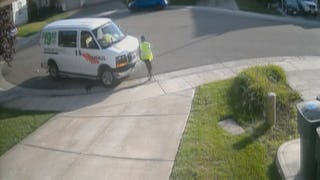 Image via Fox News
The Amazon delivery driver can be seen defecating on surveillance video
In today's "You Can't Make This Stuff Up" news, an Amazon delivery driver was caught defecating right in front of a customer's house thanks to surveillance camera footage. It's not exactly the kind of delivery you hope is covered in your Prime shipping, huh?
Nemy Bautista of Sacramento came home from work one day this week to what for all intents and purposes appeared to be dog poop at the end of his driveway. So he consulted his own security camera footage to see who the poop-etrator was — because nothing grinds gears harder than people who don't clean up after their dogs, amirite?
Welp, instead of a human not cleaning up after a dog, Bautista discovered it was a human…not cleaning up after herself. YIKES.
In the footage, it's pretty evident that she's doing what any woman on earth will instantly recognize as "The Pop And Squat." There isn't a woman alive who hasn't pulled this move during a sporting event or concert tailgate — because beers add up and we don't have the luxury of relieving ourselves as easily as men do. When you gotta go, you gotta go!
But let it be known: The Pop And Squat is reserved exclusively for discreet public peeing. Because, as we all know, women don't poop in public. For whatever reason, many of us would rather die than let out so much as an audible toot in a public restroom. So this woman either ate something that left her feeling especially urgent, or, much like Colorado's "Mad Pooper," she just DGAF. At all.
As for Bautista, he says he was "shocked" by what he saw and immediately contacted Amazon to complain. "I wanted Amazon to come clean it up," Bautista told Fox News.
A representative for the company apologized and said the delivery woman was contracted by a third-party Amazon hired to make those deliveries.
"This does not reflect the high standards we have for delivery service providers," Amazon said in a statement to Sacramento news station KCRA. Apparently there won't be any more Drop A Deuce Delivery services from this woman, at least not on Amazon's dime — they relieved her of her position faster than she could relieve herself. BA-DUM TSSHH!
As for atonement, Amazon sent a delivery supervisor to, uh, scoop up said poop and offered Bautista a gift card. Here's hoping it was a big one — the gift card, I mean.
This article was originally published on