You need all of these very pretty Disney-themed makeup products in your life
Want to make your morning routine so, so much more bearable? Ditch your tired old makeup for these super cute, super fun Disney-themed beauty products. You'll be a whole lot less cranky at the crack of dawn when you're using a Minnie Mouse lip smacker.
Channel your inner princess with this Colourpop x Disney Limited Edition eye shadow palette. Each shade is inspired by a different Disney film, including Poison Apple (metallic pinky violet) and Prince Charming (ivory pearl with a green duochrome).
While you're applying your pretty new eyeshadow, you're probably going to want to be using this Disney-themed compact. It features bright, colorful paintings of almost every single iconic character, has 10X magnification, and will fit easily in your purse.
This Minnie Mouse lip balm is ridiculously cute, promises to sooth dry lips, and comes in a strawberry lollipop flavor. Wins all around.
More of a Frozen gal? Moisturize your lips with this Olaf lip smacker, which comes in a Icy Truffle Treat flavor.
Live your very best Beauty and the Beast-inspired life with this rose eye makeup brush set (it includes eyebrow, eyeshadow, foundation, blending and lip brushes). Warning: there's a very high chance you'll start singing "Be Our Guest" while you do your makeup every morning.
Go under the sea with this creamy, hydrating lux lipstick. It's packed with Acai, Jojoba and Pomegranate Seed butters AND has a touch of Ariel magic. Prince Eric, where you at?
Want to live that under the sea life even more? Snag these bejeweled, purple-hued makeup brushes that look exactly like Ariel's dinglehoppers.
Need a place to store all of your new Disney goodies? This very adorable Minnie Mouse makeup bag will do the trick.
Not all of us are Disney princesses. Some of us relate far more with those iconic, potentially misunderstood baddies. Rock your inner Queen of Hearts with this very villainous makeup bag.
Who needs a Fairy Godmother when you've got this dreamy Cinderella eyeshadow palette? It's packed with soft, romantic Disney-themed colors like Cinderelly, Pumpkin Coach, and Ball Gown. I guessss it's time to head to our carriages now.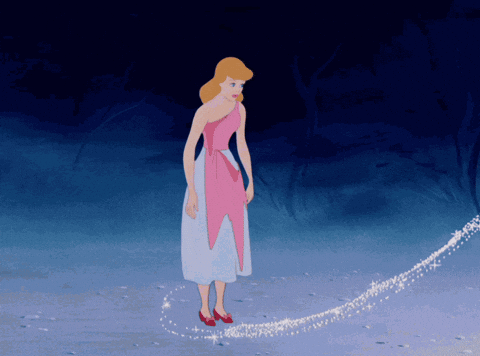 Your makeup drawer has officially become so, so much more fun. Magical fairytale living, here we come.
We may earn fees from purchases made via links on this page and affiliated sites. All opinions are our own.