Galentine's Day is just around the corner so get ready to shower your BFF with all the love
February 14th is fast approaching which means that we all need to start gearing up for Galentine's Day, the holiday that celebrates our ride-or-die BFFs (special shout-out to Leslie Knope for the invention of this seminal event). It's time to make your best pal's day very, very special with some snuggly blankets, soothing oils, and Golden Girls merch galore. Prepare for all of the Best Friend Awards.
Your best bud might not have an actual valentine in her life, but that doesn't mean she can't get her cuddle on. This velvet weighted blanket offers DTPS (Deep Touch Pressure Stimulation) which feels like the light pressure of someone holding her. The blanket also promises to calm the nervous system down and deliver a better night sleep. Bonus points – it won't kick during the night or have bad breath in the morning.
Speaking of a good night sleep, treat your galentine to this essential oil diffuser, which delivers all of the relaxation and has seven soothing lights she can choose from as she drifts off to sleep. A very happy Galentine's Day indeed.
Give your pal an extra dose of bliss with this lavender essential oil, which will wrap her up in a healing, fresh floral scent. She might not have time to actually go to a spa, but at least now she can pretend she's at one.
This t-shirt should be given to all of your best buds on Galentine's Day. Now, you just have to figure out who's who (get your dibs on Blanche fast).
Good friends don't let good friends freeze during the winter. These corgi slippers will keep your galentine's feet looking cute AND they're heated so she'll be extra toasty every night.
There's really nothing that represents girl power more than the image of RBG riding on a unicorn. Your best bud's morning coffee just got so much more inspirational.
Attention, Broad City fans. This shirt should definitely be gifted to the Ilana to your Abbi. Yahhs, yahhs, YAHS.
Galentine's Day should always end with a really soothing, delicious bubble bath. These bath bombs are made with six essential oils (peppermint, sweet orange, lemon, rose, lavender, citronella) and will make your best bud very, very happy.
Your galentine is a mermaid queen so she definitely deserves to be treated like one. Give her this extra snuggly mermaid tail blanket and winter nights will be made so much more ~magical.~
Just a really great reminder for your BFF who probably hates dating right about now. Drink those  bitter male tears, sister.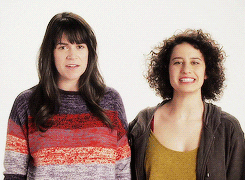 Happy Galentine's Day to all. Your BFF is about to be a very, very happy camper.
We are a participant in the Amazon Services LLC Associates Program and may earn fees by linking to Amazon.com and affiliated sites.