Send your BFF straight to Stars Hollow with these Gilmore Girls-themed treats
We may never actually get to live in Stars Hollow, stop by Luke's for a quick coffee, or head to Miss Patty's for a town meeting – but we sure as hell can pretend. Your favorite Gilmore Girls binge watching buddy deserves all of the Lorelai and Rory-themed gear out there. And so do you. Because, you know, oy with the poodles already.
Wishing that Luke's was a real-life place, where you and your best bud could plop down at a table, drink copious amounts of coffee, and talk as fast as you can? This Luke's Diner travel mug will let you take a piece of Stars Hollow with you.
Get an in-depth, behind-the-scenes look at the making of Gilmore Girls with Lauren Graham's New York Times bestselling memoir. It's basically like going back to Chilton all over again.
Rock a Doose's Market tote bag without having to deal with Taylor Doose. Win-win.
We may all have complicated feelings about Logan but that doesn't mean we can't be obsessed with that one iconic umbrella scene. Rock this comfy sweatshirt and join in on all of the Life & Death Brigade fun.
I'm all for the reading and talking and thinking and drinking and rocking. Saving the cooking for Sookie.
Sorry Logan and Dean. It will always, always be Jess. Also 100 bonus points for the swan.
It's never, ever too early to become a Gilmore Girls fanatic.
Get ready to actually eat like a Gilmore Girl. This cookbook is chock full of 100 recipes, all inspired by episodes of Gilmore Girls. Bring on all of Emily Gilmore's salmon puffs.
Represent Stars Hollow's best inn with this comfy lavender T-shirt. Michel and Sookie would be so proud.
Al's Pancake World might not have the best cuisine but it does the trick for Lorelai and Rory so we'll all have to get on-board.
Emily Gilmore might not get the joke, but Gilmore Girls obsessives definitely will.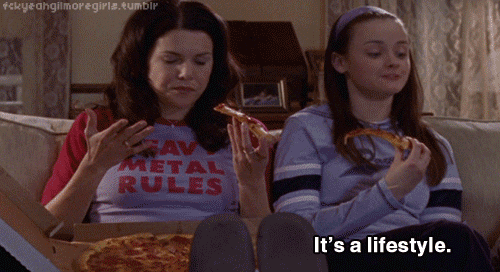 Here's to living our coziest, most caffeine-fueled Stars Hollow life possible. Bring on all of the poptarts and Donna Reed.
We may earn fees from purchases made via links on this page and affiliated sites. All opinions are our own.