'Grease' Is Returning To Theaters For Its 40th Anniversary And We're Squealing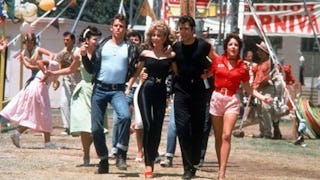 Image via Paramount Pictures/IMDB
Grease is coming back to theaters. Life just got so good.
Grab your Pink Ladies jacket and the very tightest black pants you own. Grease is headed back to theaters in celebration of its 40th (!) anniversary, and the nostalgia is already starting to pour in hard. Seriously, we could all use a piping hot serving of Danny Zuko right about now.
The film will be returning to the big screen for two nights only — Sunday, April 8 and Wednesday, April 11 – so grab your tickets fast. 700 nationwide locations will be participating and TCM Primetime host Ben Mankiewicz will deliver remarks both before and after the showing.
"Whether you've seen it dozens of times and know the words to every song, or you're in for the rare treat of seeing it for the first time, watching Grease on the big screen with an audience is an unforgettable experience that we're delighted to offer movie lovers," Tom Lucas, Fathom Events Vice President of Studio Relations, said per Entertainment Weekly.
DAMN STRAIGHT. Bring on the Thunder Birds. Bring on the poodle skirts. Bring on the hickies from Kenicke. So, so ready to do it all over again.
Okay, if you're already freaking out about the possibility of belting "Sandra Dee" publicly — there's more. Olivia Newton-John (aka Sandy) hinted back in 2017 that there might, might be some sort of Grease reunion with John Travolta to celebrate the 40th anniversary.
"We are thinking up ways. Nothing to announce yet," she told Express. "Forty years anniversary of Grease, which I can't believe…Time goes so fast. It is so exciting."
Travolta echoed his former co-star's cryptic message by telling The Mirror last month that there was definitely something in the works. "Oh we have got big plans this year!" he said. "But I can't announce them yet. I'm a couple of weeks away from it so stand by, but I could cry when I think about it! You are going to love it."
People are — understandably — going nuts with Grease love on social media.
Please, please let this reunion involve Travolta hitting that crazy high note at the end of "summer nigggghhhhhttts." Please let it also involve Rizzo — the true star of the show — throwing a milkshake at everybody.
Impatiently waiting for any and all updates. Rydell High, we've missed you so.