Reality TV Star Snaps The Realest Breastfeeding Photo Yet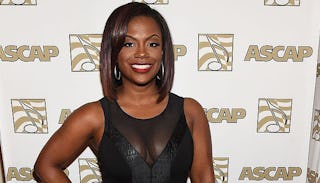 Real Housewives star Kandi Burruss just shared the most relatable breastfeeding photo ever.
Babies wait for no one, and few people know that better than reality star and new mom Kandi Burruss. The Real Housewives of Atlanta star is being praised this week after she shared a candid photo of herself breastfeeding her three-week-old son, Ace, while getting her hair done.
In the photo, Burruss is sitting in a shampooing chair and leaning back with her soapy head in the sink while her infant is latched onto her breast. Along with the photo, she writes, "This breastfeeding stuff is no joke." She adds that her friend came over to wash her hair — yes, she has a salon chair in her house — but the baby started to lose his cool. "He doesn't care that I have a head full of shampoo. He wants to eat now," she says. "This pic might be a bit much to share on the gram but this is my reality right now. Save your negative comments."
The photo has been liked over 67,000 times since it was posted on Instagram, and thousands of people have left Burruss supportive comments about both her decision to breastfeed and her willingness to share a realistic glimpse of motherhood with the world. Wrote one woman, "Real moms do REAL THINGS!!! Beyond the glitz, the glamour and the TV screen you're a wife and mother. We real women/mothers appreciate your ability to keep it 100 percent real."
While most of us can't say we have a fully functioning hair salon in our house, all of us can certainly relate to the relentless and demanding schedule that comes with having a newborn. It's probably one of the most shocking parts of new motherhood: suddenly your time is not your own. Even though you try to prepare for that change, it can still be a tough adjustment during those first few weeks and months when you realize just how little time you get for yourself.
In magazines, moms are usually feeding their babies in a daffodil-filled meadow somewhere with their hair blown out and the sun glistening off of their flawless skin. In real life, it's rarely so picturesque, and it's refreshing when we get to see these honest glimpses into someone else's reality. Burruss' photo is not only helping to normalize breastfeeding, but it's also showing what real motherhood looks like. It's an important message of solidarity that lets all of those exhausted new moms out there know they aren't alone.
(Feature image via Paras Griffin/Getty)
This article was originally published on