Marine Leaving For Deployment Celebrates Every Holiday He'll Miss With His Son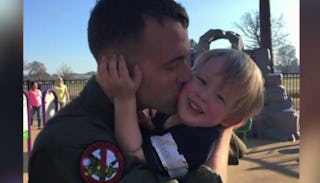 Marine celebrates holidays with his son in advance before leaving for deployment
It's Memorial Day weekend, and while everyone is barbecuing and relaxing, it's easy to forget the purpose of this holiday — to celebrate and honor those who sacrifice everything to keep our country safe. And even if they don't give their lives, our service members lose out on plenty of other things while deployed. That includes time spent with their children and holidays, just like the one we're celebrating this weekend.
Marine Staff Sgt. John York decided to do what he could to make his son feel better about his upcoming deployment and that meant spending his 10 days of pre-deployment celebrating all of his 4-year-old's favorite holidays. And yes, that meant putting up a Christmas tree in the middle of May.
According to Today, little Bryson York's heart breaks just when his dad leaves for work. Mom Priscilla York says, "They have an incredible bond. If this happens when his dad leaves for just a few hours, I can only imagine how hard it's going to be when he leaves for deployment."
To that end, the 30-year-old dad thought it would soften the blow of his absence to celebrate all of the holidays he was going to miss in advance. They started over Mother's Day weekend, which headed right into Halloween. Since it was May and clearly, the neighbors might not be into it, Sgt. York was sure to hand them all candy to give to Bryson when he came by trick-or-treating in his Paw Patrol costume.
Honestly, could this be any sweeter?
In addition to Halloween in May, Bryson got to celebrate his fourth birthday early, complete with the gift of a new bike and a cake.
Holidays are a bigger deal for this family than most, as Priscilla runs a company called Holiday Traditions, which sells holiday goods for kids. "When John came to me with his idea, it melted my heart. Since he did all the holidays early, I wanted to give him a really good Father's Day present."
That present was a tear-inducing video compilation of the father and son doing their early holiday celebrations. Priscilla says, "I swear he sat on the couch and watched it on repeat over 1,000 times. It's something he's going to be able to cherish forever."
For many of us, it's easy take holidays, birthdays and other special occasions for granted if we are in a position to celebrate them all with those we love. Members of our military and their families don't always have that luxury, and knowing they'll be gone for so many important dates can cause them and their children a lot of heartache. What Sgt. York did for his son was amazing and definitely above and beyond, but it's clear what motivated him. Wanting to provide Bryson with all of the experiences he was going to miss out on with his dad is something any parent can understand.
We're so glad this family got to make so many beautiful memories together before Sgt. York's deployment begins. Hopefully, it makes the next several months go by just a little bit faster.