Mom Fights Off Would-Be Kidnapper In Terrifying Video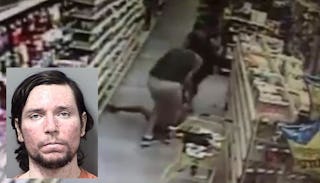 Store surveillance caught would-be kidnapper dragging girl through store
A Florida mom fought off a would-be kidnapper in a terrifying situation that is every parent's worst nightmare, but also just so crazy that no parent has probably ever conceived to be worried about something like this. The attack happened inside a dollar store and was caught on surveillance cameras.
Craig Bonello is seen pushing a cart through a Dollar General in Hernando, Florida before abandoning it and walking down another aisle. The man is then seen dragging a 13-year-old girl through the store as he tries to get her outside. The child struggles as her mom attempts to fight off Bonello. At one point he's dragging them both through the store as the heroic mom continues to fight him off.
He is trying to pull the girl from her mother's arms and out of the store.
Thanks to the mom's constant efforts to save her daughter Bonello eventually gave up and ran outside. He may have gotten away with his heinous crime had Citrus County Sheriff's Deputy Jonathan Behnen not been there. The law enforcement official was off duty that day and at the store to buy cleaning supplies.
The chilling video is hard to watch.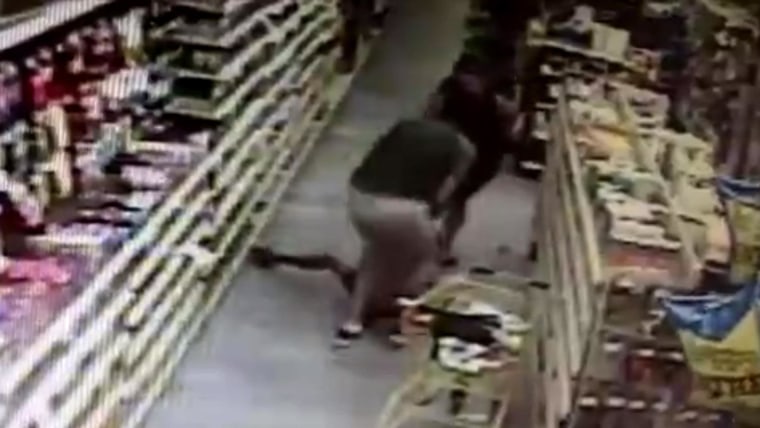 Behnen noticed a commotion in the store from the parking lot, but assumed it was a shoplifter. "Next thing I know, the suspect comes running out the front door. The store manager, who is known to me … started yelling at me, 'John, he just tried to kidnap a girl,'" Behnen explained. "When he said kidnapping, I was in a little bit of shock there because it's broad daylight."
Bonello has already made it to his car, so the deputy blocked him with his police cruiser. "He tried to take my child," the mother was screaming as the deputy pulled out his gun and apprehended Bonello. "I thought the mom was stellar in this case," Citrus County Sheriff Jeff Dawsy told NBC News. "Mom was on it. He was getting his butt kicked by Mom. That was one of the refreshing things you saw in that video." Had the child's mom and the deputy not acted so quickly the kidnapper may have escaped. "The real concern is, what would he have done for the rest of the day" the sheriff asked.
While no one was hurt in what police are calling a "violent attack" we're sure this brave mom and her daughter are pretty shaken up after the whole incident. It's also scary to think about what would have happened had the child's mom not been with her or in a different aisle. An unnamed clerk at the store was heard on the 911 call telling dispatchers that the kidnapper is a regular at the store. "He's in here pretty much every day," he's heard telling police.
The 30-year-old attacker was arrested and charged with abuse and kidnapping and will be in court on June 27.
This article was originally published on