Mylan CEO's Salary Hits $18M As The Price Of Life-Saving EpiPens Continues To Soar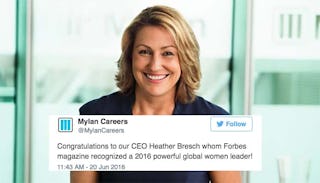 Mylan, the company that makes the EpiPen, has raised the price of the drug almost 500% and executive salaries have gone up over 600%
For some of us, children's allergies are nothing more than an annoyance or inconvenience. For other parents, however, allergies are a matter of life and death. For parents of children with severe allergies, making sure there is always an EpiPen with their kid is not a luxury, it's a necessity. This makes the obscene price increase for the drug over the past few years both inexcusable and immoral.
When exposed to allergens like bee stings or peanuts, children with severe allergies can have an anaphylactic reaction within minutes. This means that they quickly start to have trouble breathing, their pulse gets weak and rapid, and their blood pressure drops. Without immediate treatment, this can lead to death. Parents of children who are susceptible to these kinds of reactions are advised to always have two EpiPens with them (one to act as a back-up in case the first one doesn't work), and to make sure that there are also two pens at their child's school or camp. The pens also expire after a year and therefore need to be replaced annually.
That's a minimum of four pens per year, with many parents needing more. Depending on that parent's health insurance, the price increase can mean a difference of hundreds of dollars a year. Families without insurance and those with high deductibles are being forced to make heavy sacrifices or gamble with their children's lives.
One mother told the New York Times that she will spend $735 dollars this year on three EpiPen sets for her six-year-old daughter. Another will pay $400 for a set that she paid $100 for last year. "I called the insurance company and asked why it was so high and was told that, actually, it's $700 total, and my co-pay is $400," she said.
So why has the price increased so much? We'll give you a hint: it starts with "m" and rhymes with "honey." Mylan has a near market on EpiPens due to the lack of a generic alternative — they are, truly, the only game in town. They have also benefitted from recent legislation that requires that the pens be sold in packs of two, that those who at "at-risk" can get subscriptions instead of just those with confirmed allergies, and gives block grants to states that require EpiPens in public schools.
Those at the top of the company are reaping the rewards of this price-gouging. Since the price increases (five of them at 15% just since 2013) began in 2007, CEO Heather Bresch's salary has gone from$2,453,456 to $18,931,068, an increase of 671%. Other high-level executives had their salaries increase by over ten percent in 2015.
Though the EpiPen is Mylan's biggest seller, the company has increased the prices on more of its drugs this year: the cost of a generic drug to treat gallstones is up 542%, a generic drug to treat gastroesophageal reflux disease (GERD) is up 444%, and a drug that treats irritable bowel syndrome is up 400%. The difference in the case of the EpiPen is, of course, is that without it your second-grader could die within minutes. Mylan knows that. And so do the uninsured and under-insured parents who are grappling with how to pay for it.
Some parents simply can't afford the new price and are crossing their fingers and relying on expired EpiPens. Others are buying EpiPens from abroad, where they are cheaper. Still others are buying epinephrine and syringes and trying to do it themselves, which can lead to unintentional dosing errors.
For its part, Mylan defends the price increase, saying in a press release (after reminding us that, "access to epinephrine [is] the only first-line treatment for anaphylaxis,") that almost 80% of patients received the drug for $0 in 2015, and blaming "the health insurance landscape" which has led more families to choose high-deductible plans. They also offer a $100 coupon on the drug, so…there's that. Mylan also takes a lot of pride in the fact that they have "increased anaphylaxis awareness", as in, "I have increased my awareness that anaphylaxis could kill my kid because I can no longer afford their medication."
Despite Mylan's excuses, the fact is that the 20% who aren't paying $0 are real people who could really die because they can't afford the exorbitant price they are being asked to pay for a necessary medication. The lack of competition, the life-saving effect of the drug, and Mylan's greed have led them to exploit the need for this drug and put lives at risk for their own profits.