Best Swimsuits Of 2020 According To Mom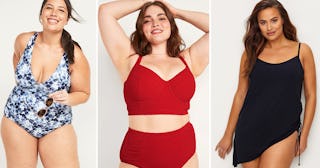 Old Navy / Bare Necessities
Buying a new swimsuit is something that's usually high on the shopping list when a vacation is on the horizon. Well, ladies, it ain't right now…but that bb pool and sprinkler pad are looking really appealing after a long winter spent inside. And just because we're swimming in our backyard doesn't mean we want to wear something outdated and out of style.
In-store shopping is not ideal this year, so we're shopping for swimsuits online exclusively. Leaving many of us wondering – "Where can I even buy cute bathing suits online?"
There are great options— many with hassle-free returns or exchanges, so you can figure out style and size preference at home. Anyone who has ever tried on a bathing suit in the fluorescent lighting of a fitting room with a toddler can appreciate the appeal of trying on a suit from the comfort of your own bedroom. (Send the kids outdoors for a swing break and start the fashion show!)
There are a few key things to think about before shopping online— even just knowing the color palette or style ahead of time can make the whole experience less painful. Also, have a good idea of what size you'll need (size charts and reviews from other women are our best friends). Consider— get ready for this— something a little out of your normal wheelhouse. Do you really need another black or navy swimsuit? Are you ready for a bold print or maybe even a two-piece? We say YES.
We've done the homework and found fun, festive prints, and beautiful solids in one-pieces and bikinis, each guaranteed to give us the coverage we need and be figure-flattering— while still ensuring we can still keep up with whatever our LOs throw at us. All that's left to do is click "add to cart".
Based on style and ratings, these are the most trendy plus-size swimsuits of 2021!
Best Plus Size Swimwear
Best Plus Size Tankinis
Best Plus Size Swim Dresses
Best Plus Size Two-Piece Bathing Suits
Cheap Plus Size Bathing Suits
Found your perfect fit? Check out all of our other mom-approved summer fashion finds to keep you cool in the heat.