Tom Hardy's Sweet Tribute To The Dog He Lost Is Breaking Everyone's Heart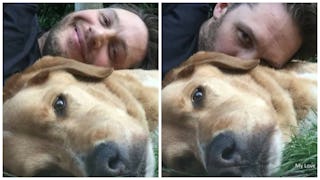 Image via Twitter
The dog was his best friend
Actor Tom Hardy is known for his love of dogs, and his own canine pal Woody was a mainstay in his life, accompanying him to film sets and premieres. Sadly, Woody died a few days ago, and Hardy wrote the sweetest letter as a tribute to his best friend.
BuzzFeed reports that Woody was only six years old when he died after a six-month battle with polymyositisis, a muscular disorder.
The sweet pup was a huge part of the actor's life, so when he died, he was understandably devastated.
He even had a photo of the two as his phone cover.
Hardy took to Tumblr to share the sweetest tribute to Woody, including the story of how they met on the set of the film "Lawless." It was on a dark Georgia road that he first ran across the lost pup. After gaining his trust, he finally got Woody to come to him.
"It was a very small bundle literally sagging from its neck fur with two big brown eyes staring straight into mine. Terrified and utterly quiet. When I got back to the car and sat in my seat he lay on my shoulder and fell asleep. And snored clearly he'd been through a lot. And now the ordeal was seemingly over enough for him to relax."
Hardy was with co-star Jessica Chastain and when she asked if the dog was a boy or a girl, he said boy, because he could feel his "Woodstock." And that's how his name was born.
The actors brought Woody to a pet store that night and got him cleaned up, bought him a few doggie necessities, and that was it — he was now Hardy's beloved pet. Calling him the "on-set dog," Woody came along just in time as Hardy had just lost another dog, Max.
"He was an Angel. And he was my best friend. We went through so much together," he writes.
In announcing Woody's death, Hardy acknowledges how many people loved him and how many lives he touched. He notes that he doesn't typically share much about his personal life, but this was worthy.
He was only Age 6. He was Far too young to leave us and We at home are devastated by his loss I am ultimately grateful for his loyal companionship and love and it is of some great comfort that he is no longer suffering. Above all I am completely gutted. the world for me was a better place with him in it and by my side.
He just loved this dog so much.
Woody was the bestest of journey companions we ever could dream of having. Our souls intertwined forever.
Hardy closes by thanking Woody for always being there.
Thank you Woody for choosing to find us. We will love you and be with you and you with us forever. Never ever ever forgotten. Your Boy tom xxx I love you beyond words. To the moon and back again and again to Infinity and beyond. Run with Max now and the Angels. I will see you when I get there.
Here's the essay in full. Bring tissues. Like, the whole box.
This article was originally published on