Heart-Stopping Video Shows 4-Year-Old Falling Out Of The Back Of A Moving Bus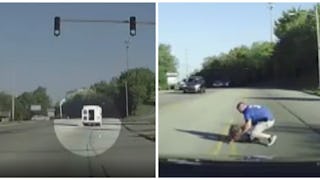 Image via KHBS/Ryan Ciampoli
Chilling video shows little girl tumbling out of the bus on a busy road, and the man who helped save her
Thanks to the quick help of bystander, a four-year-old girl who fell from the back of a moving bus is expected to make a full recovery. The entire scene – which is enough to make anyone literally gasp aloud in horror – shows the girl falling out of the bus onto a busy road after the back-door springs open.
The horrifying incident was captured on video by the dash cam on the vehicle of Ryan Ciampoli, who was driving behind the church bus in Harrison, Arkansas. Ciampoli is a volunteer firefighter and trained EMT (or emergency medical technician), and he sometimes uses the dash cam when on duty.
Warning: this video will make your heart drop into your stomach. You can't unsee this, so watch at your own risk.
Not only did Ciampoli's dash cam record the incident, but his quick thinking and EMT skills saved the little girl. He ran to the girl, and moved her from the traffic on the busy road. At first she was unconscious, but after he cradled her and talked to her, eventually she awoke.
"For a very brief time she had got enough consciousness to say 'where is my mommy?,'" he told CNN.
Although safety protocol is typically to leave a victim where they are until medical help arrives in order to prevent neck, back or spinal cord injury (and the armchair experts on the Internet are quick to point this out), in this case, moving the girl was necessary to keep her safe.
"Obviously you want to leave her laying there, if she's not in danger, but we're in the middle of a state highway," Ciampoli told KHBS-TV. "So I couldn't leave her just laying there."
Paramedics arrived about five minutes later, and took her to a nearby hospital. She'll need surgery to repair her broken jaw, but she's expected to make a full recovery.
Not only is the video horrifying to watch, and nightmare fuel for parents, it opens up so many questions. The girl's mother told the media she doesn't blame the bus driver, but a pastor at the church using the bus told ABC News they won't use that bus again. As of now, it's unclear how something like this could happen, but Ciampoli encouraged people to take a first responder class for freak-accident situations like his one.
"It can happen anywhere, anytime," he said. "Never would you think driving down the road that something like that would happen."
This article was originally published on