Amazon Echo users are telling some pretty terrifying stories about Alexa
I like to think I'm a pretty brave chick. I watch every horror movie I can get my hands on and they rarely cause me to lose sleep. I've even toured supposedly haunted buildings overnight in the hopes of catching a glimpse of a ghost. I'm not what you'd call easily rattled, but even I draw the line at a robot voice laughing at me randomly and looking up potential funeral homes without being asked.
Freakily enough, that's all stuff that some Amazon Echo owners are claiming to be experiencing while using Alexa, the brand's version of Suri, who's supposed to help you with all manner of tasks and not scare the shit out of you. Just listen to this eerie giggle and try not to run screaming.
So Alexa decided to laugh randomly while I was in the kitchen. Freaked @SnootyJuicer and I out. I thought a kid was laughing behind me. pic.twitter.com/6dblzkiQHp

— CaptHandlebar (@CaptHandlebar) February 23, 2018
LOLOLOL NOPE. But apparently, the creepy and unsolicited laughter is a thing that's happening to a number of Alexa users.
My alexa just laughed out of nowhere time to unplug this shit

— Roy (@Nai_Roy) February 25, 2018
Sure is, Roy! I'd be tossing her into a wood chipper for good measure.
Alexa is supposed to laugh if you tell her a joke, but what's funny about refusing to answer your question and then doing an evil chuckle instead? NOTHING that's what.
"They just wanted to turn off the lights. 'After the third request, Alexa stopped responding and instead did an evil laugh.'" 😳😳😳 https://t.co/PTtrYxSbbo

— Lisa Feierman (@lisathefeierman) March 6, 2018
What in the god damn hell.
Lying in bed about to fall asleep when Alexa on my Amazon Echo Dot lets out a very loud and creepy laugh… there's a good chance I get murdered tonight.

— Gavin Hightower (@GavinHightower) February 26, 2018
Or just set the entire house on fire with Alexa inside, Gavin — not that anything will kill her, probably.
WHY DID MY ALEXA JUST LAUGH OUT OF THE BLUE?!?!?!?

— Kyle Fitzy Shanklin (@kylefitzy8) March 4, 2018
Great question, Kyle! Hopefully, you live to find out.
unprompted, my alexa just said "sure, I can laugh: tee hee" and I'm moving out now

— Daniel (@ddanielclemens) March 7, 2018
It's been a good run, time to apartment hunt.
Witch-like laughs and a mind of its own, you say? Fuck that forever.
Well, humanity. We had a good run. pic.twitter.com/BrrlCvaf2D

— Parker Molloy (@ParkerMolloy) March 7, 2018
This whole situation is just an absolute pile of nope, to be honest.
Replying bc THIS creepy thing happened last night: we got home and, totally unprompted, our Amazon Echo/Alexa started talking. And then i realized it was listing off local cemeteries and funeral homes??? I'd rather it laugh at me tbh

— Baby Acapulco (@HeyItsKamo) March 7, 2018
Alexa can help with anything, y'all. Even getting a head start on planning your funeral!
Mine whistled up stairs in my bedroom. No one's home besides me and my dogs. And my upstairs dog, I call her that because 1 dog stays downstairs at night to sleep on the couch lol. The other comes to bed at night with us. Alexa is in the trash, I thought I was losing my mind.

— Bad Kitty Games 2142 (@Supermom1242) March 7, 2018
You take both dogs and you run. Run and never look back.
Read this little tale if you don't want to ever sleep again.
So, this is going to sound insane, and I do mean literally insane, but the gods as my witness…it really happened.

I was just asking #Alexa about my day tomorrow and checking for news and weather updates when she literally stopped doing what I asked her.

Literally.
Then…
1/

— Robert #Resist Sandy (@frodofied) March 7, 2018
She started doing random shit. No joke. But then I asked her to play my @BettyBuckley mix she scared the crap out of me by telling me the definition of the word please! I swear to God!

THEN,

And, not making this up, I said "Alexa you're freaking me out" & she fucking laughed!

— Robert #Resist Sandy (@frodofied) March 7, 2018
I didn't even know she laughed. I swear to you it was the scariest shit I ever heard.

Needless to say I unplugged my Echo and it is now sitting in the bottom of s box--away from me.

What's really weird is that I logged on tell you guys and Betty had just retweeted me.

— Robert #Resist Sandy (@frodofied) March 7, 2018
JESUS CHRIST DUDE. We need an old priest and a young priest or maybe just a sledgehammer.
FEATURED VIDEO
Having an office conversation about pretty confidential stuff and Alexa just laughed. Anybody else ever have that?

It didn't chime as if we had accidentally triggered her to wake. She simply just laughed. It was really creepy.

— David Woodland (@DavidSven) March 1, 2018
What the shit, David? Couldn't you keep that to yourself so I'm not up at 3am having a mild panic attack?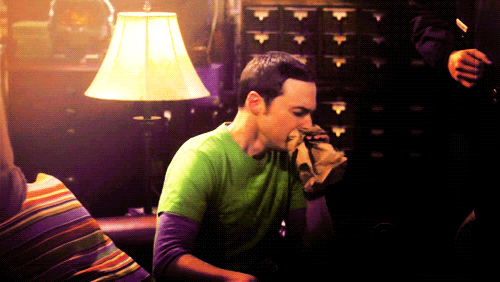 so my mom & I are just sitting in the living room, neither of us said a word & our Alexa lit up and laughed for no reason. she didn't even say anything, just laughed.

we unplugged her.

— taylor wade (@taylorkatelynne) March 5, 2018
Yes. That's how you survive the uprising of the robots. Unplug that shit and forget you ever heard her name.
In the meantime, know that the good folks at Amazon are trying to get this horror show dealt with. In a statement to The Verge, they said "We're aware of this and working to fix it."
WORK FASTER.