1 In 500 Americans Have Died From COVID, But Sure Let's Protest Mandates
by Erica Gerald Mason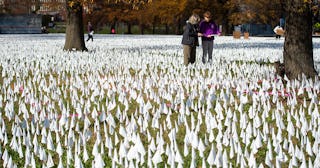 ROBERTO SCHMIDT/Getty
The news comes as a vocal minority have decried mask or vaccine mandates in Florida and Texas
As the Delta variant sweeps across the country, hospital beds in some areas have become scarce. And in sobering news, Johns Hopkins University has announced that 663,913 people in the United States have died of Covid-19. According to the US Census Bureau, CNN reports, the United States population as of April 2020 was 331.4 million, which means that 1 in 500 Americans have lost their battle against the virus.
This would be the perfect time to talk about what a civic duty looks like for the average person. For the average American, we won't have much to offer in the way of sacrifice. Sure, we serve on a jury every now and again. We vote. Some may work in healthcare, education, transportation, public works, or military service.
Not much is required of us. So when the people who DO make those sacrifices ask us to modify our behavior for the public good, it shouldn't be so much of a struggle for us as a nation to follow through.
Our grandparents remember a time when our country, in the midst of WWII, asked its citizens to grow what were called Victory Gardens. The gardens, meant to alleviate nationwide food shortages, gave ordinary people the chance to contribute to something bigger than themselves. Not everyone could or would plant a garden, of course. But many did.
We now have a chance to contribute to the greater good in the same way our grandparents did.
But no.
Some have chosen this particular moment to be on the wrong side of history. Leaders in states like Florida and Texas have vehemently objected to any public health measures that require folks to do their part in preventing the spread of the virus. Parents have protested against masks in schools. How on earth can we fix this if peopler refuse to do what's needed?
"At least 1 in 500 Americans has died from Covid," one doctor tweeted. "That's a tragic and unacceptable number. Many of those deaths could have been prevented."
"Seeing that 1 in 500 US Residents have died from Covid & people are still denying that it's dangerous…," another person tweeted.
Author Stephen King tweeted about the new statistic.
The CDC recommends people — even those fully vaccinated — wear masks indoors in areas with substantial or high community transmission. More than 99% of the population lives in a county with one of those designations, CNN reports.
One Twitter user opined that vaccine hesitancy might be due to the previous presidential administration's attitude.
""It's just like the flu" said @DonaldJTrumpJr's dad," the tweet reads. "Flu deaths per year in US: est. 30,000. Now 1 in 500 Americans Dead. Over 663,000 in 18 months. Sure, idiots. Same thing."
This week, the US Food and Drug Administration will meet to discuss whether most Americans need a booster of their Covid-19 vaccine. "I would hope that that would sustain us for an extended period of time, but I don't know that right now," Dr. Anthony Fauci, director of the National Institute of Allergies and Infectious Diseases said. "We're just going to have to do the boost, and then follow people long enough to determine what the durability of that protection is."
This article was originally published on