10 Cute Animal GIFs To Thaw Your Heart On This Shitty Day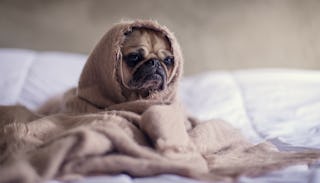 Pexels
There is no time like the bleak-as-hell present to wrap yourself in a warm GIF blanket. That blanket is even warmer when it is made of the cutest animals this side of the internet.
1. Watch this one for a minute or two and then realize you're jealous of a wrinkly dog.
2. This hamster is making all the right sensible snack choices.
3. Everyone otter have a ride or die. (Sorry. I'll see myself out.)
4. I didn't think bats could be cute but here we are. I'm sorry I doubted you, bat.
5. We could all use this entire hug right now.
6. It's a PandAvalanche! (Really, I'm sorry. I'll stop.)
7. The only thing cuter than a napping sloth is this pre-napping sloth.
8. Dance like no one in the Serengeti is watching, folks.
10. A basket of depupables! (I'm leaving. I swear. Sorry. Fur real this time.)
This article was originally published on