10 Of Our Fave Photo Editing Apps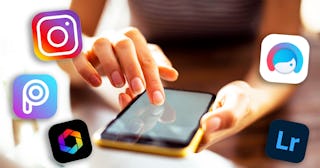 Marko Geber/Getty and Apple App Store
I have a handful of different photo editing apps on my phone. I don't always edit my photos, but when I decide I want to add a little pizazz, I have a lot of ways to do that. I'm not ashamed to admit that AT ALL. There is literally nobody alive who doesn't like to look good in a photo. Exactly what that means to each person is open to vast amounts of interpretation, but everyone likes to see a photo of themselves and think, "I like this one."
I'm not over here giving myself a different face or body, but sometimes I like to throw a filter on a selfie, remove a zit, mess with the lighting on a photo of my kids, add a caption, or even just find a way to make a simple snapshot look a little nicer.
During the strictest part of lockdown last April, I made use of these apps when I had to do milestone photos for my three-month-old at home. They're not as gorgeous as her pro shots, but they look kind of fine next to her professional pics, and that's because I used some photo editing apps to make them look a little fancier.
Playing around with different effects can be fun! Here are a few of our faves, and a few reader recommendations that we can't wait to try.
Okay, so this "one" is actually two, but since a lot of us are using these services anyway, I thought I'd remind you that there's no shame in throwing a built-in IG filter on your photo before you post it.
Snapchat filters can be fun and silly, but they also have a few magical ones that make you look impossibly flawless, so take advantage of that if you want! It's still you, just a little extra polished.
This app is intended to "tune" your face, so it has the potential to make you look like a different person. You can slim your face, make your eyes larger, make your lips fuller and whiten your teeth. I'm not personally into changing that much about a photo (although it's kind of fun to play with it and see how much I can change before I stop looking human!), but I do love how easy it is to get rid of a zit in FaceTune. It's easy to use, and fun to mess around with.
This app has a social media-esque side, allowing you to share your photo creations with other users, and follow people for inspiration. I don't personally prefer to use that feature. I just use the editing features and save the photo to my phone. The free version includes editing tools, filters, retouching tools, stickers and more. The paid version expands those options. Really creative, tech-savvy people can do some artistic, amazing things with this app, but even casual users like me can figure out how to edit away a pimple, add a nice, subtle filter or crop a photo in this easy-to-explore app.
Lightroom is photo editing software created by Adobe. Every single time I see anyone ask about photo editing apps, there will be a zillion comments recommending Lightroom. This one is not super easy to use. It's intended for actual photographers, and can be used on a desktop or on the go. It's more complicated than most of the apps intended for casual user. But the coolest thing about Lightroom for regular non-photographer peeps like me, is that there are tons of professional photographers who have created presets that you can purchase so you don't have to try to figure it out on your own. Purchase their preset, follow the instructions for use (again, a little complicated, but I'm no tech whiz and I figured it out) and voila! You have a nice-looking photo in minutes.
This app has some basic built-in filters, but it's primarily a collage app. I use it pretty often to do side-by-sides or before and afters. It's been a staple on my phone for years now. Super easy to figure out, and really quick to use.
If you ever want to put a cute caption on your photo or add words for any reason, Word Swag is the BEST. It has a wide variety of beautiful fonts and layouts, and a small library of suggested quotes if you're low on inspiration. Lots of other apps include a small library of fonts, but I like Word Swag because of the way it helps lay the text out in interesting and eye-catching ways.
This one is for the parents out there. You can create adorable milestone photos, holiday-themed pics and even add your babe to beautiful backgrounds. There are a few simple filters in this one, too, but the star of this show is the huge library of adorable little stickers to use from the moment you find out you're expecting, all the way through to the first day of school, and beyond.
Nashville-area nature photographer Andrea Kruszka recommends Snapseed. "I like Snapseed because it has a ton of options as a free app, from different filters to a lot of ways to finetune your image. It's intuitive and easy to use on a smartphone screen, and you can share straight to other apps from it, like Instagram or Canva, so it's very user-friendly!"
Anna Skates, creator of Otter.ly, says she uses Afterlight because, "I love the prebuilt filters in Afterlight. But they've also added the ability to manually blur parts of your image (in case you forgot to turn on portrait mode), and some really cool lighting effects. You can also create an edit and SAVE it as your own filter to use later. So far, I haven't found the limit of how many of these you can create. I have about 15 stores so far."
Lillian Boeskool of lillian b photography likes PicTapGo. "I like the filters, and the way the interface lets you control and adjust the amount of the filter applied. It does not adjust/touch up appearance, just changes color and light etc. I just am a sucker for a slick interface," she explains.
It goes without saying that none of us needs a filter.
We don't have to edit a thing to be beautiful, and there is no reason to hide a single thing about your beautiful body or face. There is so much beauty in a raw face, captured exactly as it is. Every line, spot and scar on our face means we've lived; I have a lot of photos of myself and my family that I've left completely alone.
To me, a beautiful photo of myself can mean a lot of things. Maybe I love the way my husband caught me looking at my baby. It could be that my hair looks extra shiny, or my smile looks genuine.
But you know what? Sometimes, my favorite photos of myself are filtered selfies taken from an angle that emphasizes my eyes or lips, and plays down the things I'm not feeling awesome about that day.
Sometimes my kids look adorable, but one of them has a smudge of chocolate on their face or red eye in an otherwise perfect family photo. If I want to zap that out, I'll do it with no guilt.
That's where these photo editing apps come in handy.
This article was originally published on