10 Essentials For Your Mom Survival Kit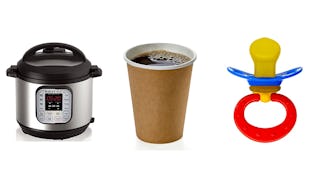 amazon.com unalozmen / Getty Thomas Hecker / Getty
A survival kit is as critical for a mom. We know this. Disaster may break at any moment. Chaos is the norm. If you prepare beforehand, your chances of making it through the disasters increases exponentially.
This is not an exhaustive list, but it includes the Top 10 essentials:
1. Coffee. Duh.
AKA, lifeblood. The reason moms worldwide make it out of bed after sleepless nights and persevere through exhausting days.
I hear some brilliant mom is working on an IV infusion method. Will keep you posted.
2. Ability to Sleep Anywhere
A necessary survival mechanism. A mysterious skill passed down through generations of moms. Couch, chair, floor, car. Doesn't matter.
3. The Mary Poppins Bag
The original Mom Bag in a sturdy, stain-resistant fabric. With an invisible bottom, it provides ample space for food, toys, medicines — anything one could possibly need on a quick trip to the grocery store.
As a bonus, random people will approach you and ask if you "happen to have…" — because everyone knows that a woman with a Mom Bag has anticipated all possible needs in her environment.
I'm still wondering if anyone makes a bag that includes an extra shoulder to hold the thing up.
4. Instant Pot
The greatest invention since electricity. Mama's salvation from frozen pizzas and hot dogs with mac 'n cheese.
Not that I'm against pizzas and mac 'n cheese, but if you are constantly forgetting to thaw meat for dinner, this is the answer to your prayers.
5. Pacifier
Warning: expect judgment and scorn. They will heap the guilt upon you and suggest you start fitting your child for braces now. Or yesterday.
You're welcome to use my response: please, please do not take my kid's pacifier out of his mouth or I'll have to hurt you.
6. Wet Wipes
I cannot stress enough the importance of wet wipes.
They clean hands after the park, feet after a child runs barefoot through the grocery store, and boogers from little faces. Use them to clean clothes after a messy lunch or toys after a kid has immersed them in a muddy puddle.
7. Audio Books and Podcasts
This item comes with a disclaimer:
Never, ever assume you will devote full attention to your listening. Audio books and podcasts may help keep a mom relatively in touch with her grown-up brain, but they are also the perfect invitation for siblings to fight or a child to fall into the toilet bowl. The headphones should dull the noise though. (Bonus!)
8. Band-Aids
All toddlers know it: a Band-Aid and a kiss from Mama miraculously heal any injury.
9. Extra Set of Clothes
One set per child and one for Mama. Because I guarantee if you set foot out the door, someone will spill their drink, throw up their lunch, or poop explosively out the sides of their diaper.
You've been forewarned.
10. Snacks
Whether you're waiting in line at the bank or sitting through story time at the library, snacks will keep your kids quiet and happy. Healthy snacks — raisins, granola bars, or freshly cut fruits and veggies. Not so healthy — fruit roll-ups, gummy packages, and bags of M&Ms.
I won't judge you either way.
This article was originally published on