10 Lesser-Known '80s Films I'm Brainwashing My Kids To Love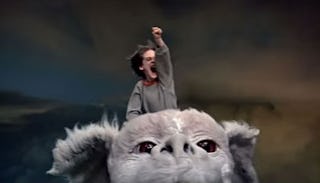 Most of us who grew up in the 1980s have big plans to force—er, encourage—our kids to love classic '80s films like Ferris Bueller's Day Off and The Goonies, but these ten lesser-known movies are so fantastic that I can't imagine raising my children without them. They range from silly slapstick comedies to epic fantasies to sweeping historical dramas. Some are kid-friendly; others are more appropriate for teenagers.
1. Willow (1988)
A prophecy has foretold the birth of a princess who will overthrow the evil Queen Bavmorda and end her reign of terror. Willow (Warwick Davis), a farmer with hopes of becoming a great magician, is conscripted to protect the princess, aka the world's most adorable baby. Along the way, he forms a reluctant and comical alliance with the wayward warrior Madmartigan (Val Kilmer). This epic fantasy has it all: magic, humor, romance and cheesy-but-sort-of-awesome-in-an-'80s-way special effects.
2. Ladyhawke (1985)
Ladyhawke boasts a star-studded cast, including a very funny pre-Ferris Matthew Broderick, a can-she-really-be-that-gorgeous Michelle Pfeiffer and Dutch actor Rutger Hauer (remember the replicant from the cult classic Blade Runner?). When chatty thief Philippe Gaston (Broderick) manages to escape from the legendary prison of Aquila, he is caught up in a dangerous mystery involving a hawk, a wolf, a monk and a pair of star-crossed lovers (Pfeiffer and Hauer). Set in the Middle Ages, Ladyhawke hits all the high notes we want in a movie classic: a luxurious mystery with a touch of magic, exciting battle scenes, be-still-my-heart romance, gorgeous cinematography, and a rock-and-roll soundtrack that doesn't quite match the Middle Age setting, but is enthralling nonetheless.
3. The NeverEnding Story (1984)
Imagine reading a book and realizing that everything you are reading is true—it's happening right now—and you have somehow become a part of the story yourself, your every decision affecting the outcome. When that story involves a dying queen whose life and kingdom are being consumed by the Nothing and is in need of rescue by a great warrior, Atreyu, whose decisions are somehow connected to yours…well, you're in for an adventure.
4. Short Circuit (1986)
What happens when a robot (Johnny 5), designed as a military weapon, short-circuits and becomes self-aware? Ridiculous escapades, slapstick humor and lots of '80s-style explosions, that's what. Short Circuit stars Steve Guttenberg, Fisher Stevens, Tim Blaney and Brat Packer Ally Sheedy.
5. The Last Starfighter (1984)
The Last Starfighter is the secret fantasy of every kid who has devoted his young life to mastering a video game. But Starfighter is not just a video game, it's also a test to find gifted players to enlist as real warriors who will fight in an intergalactic battle. The Last Starfighter is a fun ride featuring early CGI effects, totally '80s hairstyles and alien makeup and of course, those awesome '80s-style video game sounds you'd recognize anywhere.
6. Sesame Street Presents: Follow That Bird (1985)
Follow That Bird brought all the characters we loved from Sesame Street onto the big screen. Big Bird is manipulated into leaving his friends on Sesame Street to go live with "his own kind"—an adoptive bird family called the Dodos. Big Bird quickly realizes that he doesn't belong with the Dodos in Illinois; his home is back on Sesame Street with Maria, Gordon, Susan, Mr. Snuffleupagus and the rest. When Big Bird runs away and becomes the target of malicious bird-nappers, it's up to his friends from Sesame Street to rescue him. The movie showcases Big Bird and friends with wonderful humor and a soundtrack that makes you want to sing along.
7. The Chipmunk Adventure (1987)
Remember when animated films did not cast big-name Hollywood stars, but instead trained voice actors, with fantastic gifts for unforgettable characters, funky accents and clever vocal nuances? This film represents everything we loved about 1980s cartoons: stellar voice talent, outstanding old-school animation and a catchy soundtrack (even if it is sung Chipmunk-style). When Dave takes a business trip to Europe, Alvin and the Chipmunks sneak away from their babysitter to race the Chipettes around the world. Their misadventures involve them in a risky diamond-smuggling operation that will take more than a few rock-and-roll songs to escape.
8. D.A.R.Y.L. (1985)
Daryl (Barret Oliver) looks like a normal 10-year-old boy, but he's far from it. He's a Data-Analyzing Robot Youth Lifeform—a super smart robot, designed to mature one day into a super-soldier. When one of Daryl's caretakers questions the morality of the project, he intervenes to help Daryl begin a new life with an adoptive family as a "normal" boy, with no memory of who or what he really is. But when the government finds Daryl, they want him terminated. Daryl will need all his gifts, his friends and his growing self-awareness to help him escape if he wants to live as a "real boy."
9. Chariots of Fire (1981)
Chariots of Fire recounts the inspiring true story of two runners who represented Great Britain in the 1924 Olympics: Scottish minister Eric Liddell (Ian Charleson) and English Jew Harold Abrahams (Ben Cross), who succeeds in spite of discrimination. The film elegantly depicts two phenomenal athletes with completely different approaches to sport and to life. The film won four Academy Awards, including Best Picture and Best Original Score. (You'd know the iconic theme song anywhere.)
10. The Man From Snowy River (1982)
When Jim Craig's father dies, he must leave his mountain home, go to the lowlands and prove himself a man before he can come back to live on the mountain he loves. Jim (Tom Burlinson) takes a job working for a wealthy lowland rancher (Kirk Douglas, who also plays the character Spur). Jim soon falls in love with the rancher's daughter, Jessica (Sigrid Thornton), entangling himself in a family feud. Filmed in Australia, the film is beautiful in every way, with wild horses, breathtaking cinematography, a haunting soundtrack and a sweeping love story.
This article was originally published on