10 Moments That Make Me Excited To Return To Melrose Place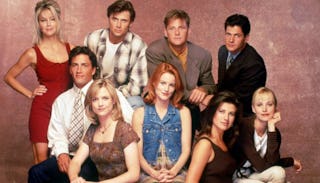 AP
As a huge 90210 fan, I was beyond excited for the spin-off Melrose Place when it debuted in 1992. The pilot began with the 90210's Kelly Taylor falling for an older motorcycle-riding bad boy named Jake Hanson. The romance between them was short-lived, but it served as an introduction to the residents of Jake's now famous apartment complex.
The show has been on my mind a lot ever since I heard that this October, Lifetime is debuting an original movie, The Unauthorized Melrose Place Story. I remember how addicted my best friend and I were the first few years, discussing the fictional characters as if they were our real life friends. Now we'll get to see all the dirt that went on behind the show we loved so much.
In honor of the upcoming movie, I have listed the top 10 OMG moments and storylines that made me scream on my couch and then run to the rotary phone to call my partner in crime:
1. Amanda and her short skirts arrive in town.
The first few episodes of Melrose were a little flat. The show was about the real-life struggles that twentysomethings face: paying bills, problems at work, relationship issues, zzz. Then Heather Locklear came to town sporting some seriously short skirts. The arrival of advertising executive Amanda Woodward brought the campy, outrageous, sexy storylines that would make Melrose the place to be on Wednesdays at 9 p.m.
2. Amanda and Billy get together.
I fell madly in love with Billy Campbell (played by Andrew Shue), and he officially replaced Dylan McKay as my biggest TV character crush. The scene where Amanda pulled off Billy's belt and exposed his unbelievable six-pack abs remains etched in my mind even now. Although not nearly as revealing as an intimate scene would be in today's no-FCC rules of cable, it was just enough skin to be hot.
3. Amanda buys the whole apartment building.
Just when Alison thinks she has snagged the guy and her rival/mean boss is out of her life, Amanda returned as her landlord. Was it absurd for Amanda to buy the building and live in that tiny apartment? Yes, but the season one finale let viewers know that Amanda had taken up permanent residence at Melrose (even though she remained a "special guest star" all six remaining seasons).
4. Jane throws her sister Sydney in the pool—in a wedding dress!
Sweet Jane tried to help her little sister Sydney get her life back in order by letting her stay with her and her husband Michael. How did Sydney repay Jane's kindness? By sleeping with her husband! And if that wasn't bad enough, Sydney then went and put on Jane's wedding dress. In a throwback scene that reminded me of Krystle and Alexis from Dynasty, a brawl between the sisters ensued while Sydney was wearing the dress, and they both wound up in the pool.
5. Amanda and Jake get it on—on the desktop.
Why get nasty in a bed when you can do it in a pile of paperclips, documents and staplers? No soap opera would be complete without a romp in the office, complete with a dramatic sweep of all the desk contents.
6. Kimberly pulls off her wig to reveal an insane scar.
After "dying" a few episodes before in a fiery car crash, Dr. Kimberly Shaw returned. Her "grief"-stricken husband had already moved on with his ex-girlfriend Sydney only to find out that his dead wife was very much alive. While Kimmy at first appeared to have returned from the dead unscathed, in the last scene, she dramatically pulls off her wig to reveal a crazy, frightening and totally awesome zig-zaggy scar across her entire skull.
7. Kimberly tells Jo her baby died and then nurses the baby.
Crazy Dr. Kim told poor Jo that her baby died, but in actuality, the baby was alive and Kim planned to pretend the baby was hers. So engrossed in her own web of lies, Kim sat in the rocking chair, lifted her shirt and attempted to breastfeed the kid!
8. Kimberly bombs the apartment building.
In the truly explosive third season finale, Kimberly blew up the entire apartment complex. The fourth season began with the fiery aftermath, including some dead supporting characters. Dis psycho Kimberly go to prison? Not exactly. She got a job as a neurosurgeon at the hospital instead.
9. Brooke is found dead in the pool.
After enjoying a nice evening out, reconciled lovebirds Alison and Billy returned home expecting a night of romance. Instead, that plan came to a screeching halt when they found Billy's ex-wife Brooke Armstrong dead in the pool.
10. Peter and Amanda walk hand-in-hand on the beach.
Like many fans, I was a little less invested in my fictional friends after season five. Several original tenants moved out and new people (Kyle, Richard, Cooper) moved in. Still, I vividly remember the final scene with Amanda and Peter (Jack Wagner) walking hand-in-hand on the beach after faking their own deaths.
Was Melrose Place a realistic depiction of life in our 20s? Of course not. But it was a great way to escape the mundane issues of being an adult. Every Wednesday, I could spend a glorious hour forgetting about my own demanding boss, project deadlines and mounting stack of bills. And the chance to stare at a shirtless Andrew Shue and Grant Show was also pretty awesome too.
This article was originally published on