10 Nike Products You Should Buy ASAP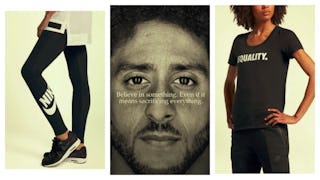 nike.com
I went to a major league baseball game the other night, and when the national anthem began, I proudly stood with my hand over my heart. That song brings tears to my eyes pretty much every time I hear it. I think of my grandfathers, grandmother, father, father-in-law, and brothers-in-law—all veterans, and how hard they fought for me. And for you.
I think of how much I love this country and how proud I still am to be American (despite the pile of shit we seem to be wading through). When I hear that song, I feel grateful that a couple hundred years ago, a bunch of strong-willed and passionate people won this country's freedom from tyrannical rule. And later sat down and drafted a list of new rules, for this young nation—a democracy.
One of which was freedom of speech. And the right to protest.
When I listened to the Star Spangled Banner that night and watched our flag wave over the field, I felt pride in knowing that, although our country is broken in many ways, my fellow Americans are allowed to take a stand by taking a knee, in the hopes of making it better.
And that's why I support the efforts of Colin Kaepernick. And why so many veterans do as well—veterans who fought so that we aren't forced to stand for the flag out of fear, as citizens of other nations are. Or prohibited from peaceful protest, as those living in dictatorships, and fearing tyrants, are silenced.
And that's also why I'm about to drop some cash on new Nike sneakers. And probably new leggings. Maybe a headband. Hell, throw in a new sports bra.
Because we're in a season of choosing sides, my friends. Our nation is more divisive than ever, so much so that major companies are taking a stand. We know where Target stands on issues within the LGBTQ community. And we know Starbucks' stance on racial discrimination. And now, thanks to a hugely viral tweet (followed by a public statement), we know where Nike stands on #BLM and the debate over taking a knee when the American flag waves over head.
Nike has partnered up with Mr. Colin Kaepernick himself, who first initiated this form of peaceful protest a couple years ago when the national anthem played at NFL games. With the words "Believe in something. Even if it mean sacrificing everything" written across the former NFL player's face, this ad is telling the world which side Nike is on.
And we are here for it.
So if you want to use your own wallet to support this cause, you're in luck because Nike has some really awesome shit. Here are a few faves that come highly recommended by loyal Nike consumers—from runners, to yoga instructors, to moms on the go who just want to be comfortable.
1. Running shorts
Okay, so we all know Nike is known for their athletic shoes, but probably the next most popular item for Nike lovers is their huge selection of running shorts. Whether you're training for a marathon, or watching Fixer Upper, Nike shorts are comfortable with a capital C. Here's a personal fave—Nike 10k running shorts.
Many of us enjoy a fall that greets us with brisk 45-degree mornings, only to climb up to a balmy 70 degrees by the afternoon, and then drop back down to 30 overnight. So this Nike Therma Sphere Element hoodie is amazing, because it's warm, but also cool, as fall temps rollercoaster all over the place.
Obviously, we love our tote bags. This adorbs blue (or black) Nike Tech tote will carry all your shit to the 800 places you go everyday. Get it.
4. Headbands
SAHM life for me = messy bun, comfy clothes, and headbands. I have two styles of headbands on this list because, TBH, headbands bring me joy. This Nike seamless wide headband will cover most of your head and keep all your wild mom hair off of your face while you work out (or wrangle your toddler at the pediatrician.)
And these Nike skinny headbands are super cute and thin. Either way. Headbands by Nike. Love.
So obviously you can get the best of the best quality running shoes, training shoes, etc. from Nike. We know you're loyal to your Pegasus sneaks. But have you seen their Pre Love O.X. Sneaker line that's iridescent?! I need these in my life. This shoe + joggers + warm hoodie = fall joy.
6. Waistpack
This is my favorite item, because fanny packs are back, y'all. I know this Nike Angled Waistpack is for running, but seriously, I could have totally used this in Disney World last winter. Need a snack? Here you go! Hand sanitizer? Have it right here! Who doesn't want one of these?
A good sports bra is essential to my happiness. There is nothing worse than a loose bra, a bra that's too tight, a bra that uncomfortably squishes the ladies, or doesn't adequately support the ladies. And this Nike Indy Cooling bra is cooling, so it helps Momma expel some heat and take her body temp down a notch. I'd like 50 of these, please.
Obviously, there are leggings on this list. Because legging are life. These Nike Sportswear Leg-A-See leggings are bold if you want to make a statement of support.
And truly, the ONLY thing more comfy than good leggings are… these Nike Sportswear Gym Vintage pants. Nothing makes me more excited for fall than warm, comfy joggers. (And soup. And PSL. And boots…But mostly joggers.)
Finally, if you want to double-dip on the social justice issues, check out this Nike "Equality" t-shirt. You can state your support for Nike and equal rights for all with this purchase. I call that a win.
So get to shopping! I know a few items going on my Christmas list! And thank you, Nike, for choosing the side that supports peaceful protest and that actually does want to make America better.
This article was originally published on