12 Reasons to Tell Your Kids About Muhammad Ali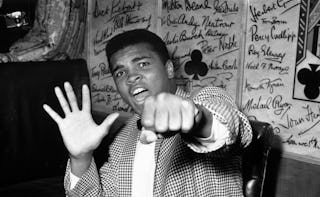 I get that times have changed. If mothers ever wanted their babies to grow up to be professional boxers, those days are long, long gone. But that doesn't mean our kids can't or shouldn't be inspired by the example of someone like Ali.
From his exploits in the ring, to his influence in popular culture and his later humanitarian work, he's one of the great American figures of the last century. In honor of the 51st anniversary of the first time Ali won a world heavyweight championship, here are 12 reasons why your kids should know about him.
© AFP/Getty Images
1. U.S. Olympics
Overshadowed by his later exploits as a professional, Ali (then known by his birth name, Cassius Clay Jr.), represented the United States at the 1960 Olympics in Rome, and won a gold medal—five years before the end of the Jim Crow era of legal racial discrimination in the country.
2. Liston 1
Ali was just 22 years old and a 7-1 underdog when he won his first title against Sonny Liston. The fight is still considered one of the greatest upsets in boxing history.
3. Liston 2
In a rematch the following year, Ali knocked out Liston, who had been one of the most-feared fighters in boxing, midway through the first round. You've probably seen the photo.
4. Refusing to Go To War
At the height of his athletic prowess, Ali received a notice in 1966 that he was being drafted into the military and likely would be sent to fight in Vietnam. He could have left the country or taken another easy way out, but he stood on principle, saying he was a conscientious objector and was against the war.
Ali's act required great courage. He was prosecuted by the U.S. Justice Department, convicted, and sentenced to five years in prison. He was also stripped of his championships and banned from boxing for four years. Ultimately, he took his case to the U.S. Supreme Court, where he won his appeal.
5. Comeback, Part 1
In 1971, after his first fight in five years, Ali was the top contender and had a chance for a title fight against Joe Frazier. The two men went the distance, all 15 rounds, but Frazier won, handing Ali his first professional defeat. There was so much bad blood between the two men that in a joint interview afterward, Frazier jumped up and wrestled Ali to the floor.
6. Comeback, Part 2
In 1974, after Frazier had lost his title to George Foreman (yes, the guy whose name is on George Foreman Grills), Ali and Frazier had a rematch. The two men went the distance again, but this time Ali won.
7. Comeback, Part 3
Ali got his title shot against Foreman in 1974, fighting in Zaire (the country now known as the Democratic Republic of the Congo). The fight was known as the Rumble in the Jungle, and at age 32, Ali won—and regained his title.
9. (Sort Of) Inspiring the Movie, "Rocky"
In 1975, Ali took on several contenders. Among them was an unheralded heavyweight from Bayonne, N.J. named Chuck Wepner. Although Ali ultimately won the fight, Wepner knocked Ali down in the ninth round. Wepner's performance reportedly inspired Sylvester Stallone to write, direct and star in the movie, Rocky.
10. Comeback, Part 4
Ali nearly lost—to Joe Frazier again—in yet another overseas fight with a classic name: the "Thrilla in Manilla", in the Philippines in 1975. After 14 rounds, the referee stopped the fight and awarded Ali the victory, not knowing that Ali had already told his team to cut off his gloves between rounds, and that he wasn't able to continue the fight. The two men still disliked each other, but voiced mutual respect afterward.
11. Comeback, Part 5
In 1978, Ali lost his title after barely preparing for a fight against another unheralded challenger, Leon Spinks. In a rematch later that year, Ali won the title back—becoming the first person to win the heavyweight championship boxing title three times.
12. Elder Statesman
Ali was a controversial figure during most of his boxing career, but after his retirement in 1981, and as he developed symptoms of Parkinson's syndrome, he became an almost universally beloved figure. He traveled to Iraq in 1991 seeking to negotiate the release of Americans that Saddam Hussein had held hostage just before the Persian Gulf War, and was later named a "U.N. Messenger for Peace" in Afghanistan. His last major public appearance was at the 2012 Olympics in London.
This article was originally published on