10 Reasons Every Family Should Have Taco Night
by Christine Burke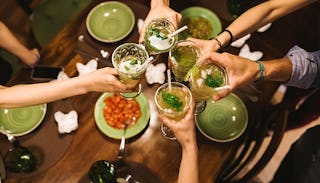 Shutterstock
I hate meal planning.
No, scratch that.
I loathe meal planning so much that I'd rather have a root canal than stand in the aisle of the grocery store trying to decide what my kids will actually eat.
One kid doesn't like cooked carrots. The other kid doesn't like raw carrots. They turn their nose up when I make any kind of fish and God help me if I mention the words "quinoa" or "kale" as I'm bringing their dinner to the table. From trying to find a yogurt that doesn't have "those fruity chunks" in it to remembering that green grapes will cause an epic meltdown, by the time dinner rolls around, I'm throwing my hands in the air in frustration.
Except on Taco Night.
If there's one thing this family agrees on, it's tacos. My family's love for tacos is deep, and it's real, people. And, on the nights I announce that tacos are on the menu, my kids act like I've announced we are going to Disney World on the Toys "R" Us private jet.
Even I get giddy when I know tacos are on the menu.
Tacos are a mom's best friend, and everyone should have Family Taco Night.
Because tacos do not suck.
Need more reasons?
1. Taco Night means you don't have to be a short order cook.
The options are endless with tacos, and even the pickiest of eaters can find something they want to put inside a Taco Boat. My kids love having control over what they put on their plate, and I've learned to turn a blind eye when one of them puts exactly three black beans and a piece of lettuce on their hard shell taco. Whatever works, guys.
2. Tacos are magical.
My daughter won't touch fish with a 10-foot pole on a good day. But, if I disguise the fish du jour in a taco smothered with guacamole and other healthy veggies, she will happily down salmon without blinking an eye. It's like magic, I tell you.
3. Clean up is a breeze after Taco Night…
…because there are no leftovers. Seriously, my kids inhale every morsel of their tacos like it's their last meal. They practically lick their plates clean, and they fight over ownership of the toppings bowls like politicians. Taco Night means my dishpan hands get a night off and that's worth its weight in gold.
4. Taco Night brings cultural diversity right to your dinner table.
We use Taco Night as an opportunity to introduce simple Spanish language and other fun facts about Hispanic countries to our kids. Our kids have learned simple phrases and numbers in Spanish, and we've discussed the similarities and differences of foods from other cultures.
5. Taco Night is family memory making at its best.
I don't care who you are — watching a 3-year-old try to fold a taco and eat it is comedy gold. Whether your kid is gulping water after tasting spicy salsa for the first time or refried beans end up all over her face, Taco Night is simple, easy fun for the whole family. Tacos are the official sponsor of family good times. True story.
6. One word: Guacamole.
Taco Night means I can eat my body weight in avocado yumminess and that's never a bad thing. Mmmmm, guacamole…
7. You can feed the masses.
Taco ingredients are cheap, simple, and quick to the table. And, you can stretch a taco menu to feed unexpected friends and family without breaking the bank. I've fed many a kid at my table, and no one walks away hungry when I serve tacos, that's for sure.
8. What else would you serve on Tuesdays?
Tuesday Taco Night is a thing, people. Tuesday is just a regular weeknight without tacos. Don't take away the only good thing about Tuesday, people, serve tacos. Tuesday thanks you in advance.
9. One more word: Margaritas.
Admit it: Margaritas make you happy. Taco Night is an excuse to get nice and cozy with a man named Jose, and let's face it: We all love when he comes to the party.
10. Tacos make you look like your cooking doesn't suck.
Aside from basic chopping skills, you don't need a whole lot of culinary prowess to make a taco dinner look spectacular. The colorful foods, the easy presentation and the wide appeal will make you look like you spent hours in the kitchen, whipping up a meal to remember. And, with most ingredients readily available in the grocery store pre-chopped and easy to serve, Taco Night is a mom's lifeline on a busy night.
Brought to you by Old El Paso, who will never judge your family for eating with your hands.