10 Teacher Pro-Tips To Get Your Child Reading
by Stephanie Duncan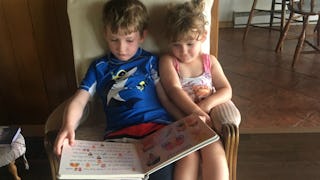 Stephanie Burke
With the new school year upon us, anxiety among parents and students start to rise. Did my kids spend all summer in front of the TV without opening a book? Will my kid ever be that kid who always has their nose stuck in a book?
There are many layers to a child's reading ability, something which begins when they first learn to communicate. Despite the bombardment of social media and technology in our lives, literacy is still all around us. Becoming an avid reader doesn't mean letting your child revert to an archaic time; in fact, rediscovering the joy of reading can help them cope in today's modern world. The world of reading can offer a magical escape goat for many children and can help them feel empowered and confident in today's stressful world.
Here are some tips on how to raise a child to love reading!
1. Make the library your home away from home.
You don't need to spend a lot of money to feed your child's reading habit. In fact, you don't have to spend any money at all. Buying books from a big box book store is not only an expensive habit but oftentimes these stores are just a distraction for kids (they sell toys and have a coffee shop with cake pops!). I save those trips for a special occasion or as a reward when my kids are super excited about getting a book to add to their own collection. I prefer another place where you can discover your love of reading and get your fill for free: the library! Your local library is a wealth of knowledge and entertainment for your children — and it's free of charge. We have spent many a Saturday in the library rifling through books and magazines and participating in their literacy programs (dinosaur exhibits, bingo games, scavenger hunts and puppet shows!). Having a library card for your child is also a great way to teach your child responsibility.
2. Make reading a family affair.
If you want your children to love reading, then YOU must LOVE reading! Show your children how you honor literacy by having books and magazines around the house and let them see you curl up on the sofa some afternoons with a book (if you can get through one page without being disturbed). My bedside tables are piled high with books (even if some never get read) and the kids know that reading a book before bed is a great way to unwind.
3. Make a connection to the book with your child.
My son and I have recently started reading the Harry Potter series at bedtime and part of the reason he chose it was because he knew he would be visiting the birth place of the Harry Potter series, Edinburgh, Scotland, this summer. Connections to books don't have to be this elaborate, but they are important. Guide them to choose books that will engage their interest.
4. Explore a variety of texts.
I know that not everyone shares my love of musty old books with their colorful spines and different type fonts. For some kids reading a book is physically or cognitively difficult, but don't let this prevent your kids from reading. There is some pretty neat technology-driven reading devices and tools out there. Downloading books on an iPad, Kindle, Kobo or Leap Pad is a great way to incorporate technology for an educational purpose. We have recently discovered Moonlite the storybook projector, and my kids love it.
5. Never use reading as a punishment.
Sending kids to their room for time out "to read" might make children associate reading with being punished and you risk jeopardizing their reading enjoyment. Instead use reading as a tool for your child to enjoy throughout the day. As hard as it sometimes is to not always correct your child when they are reading (trust me, as a teacher I know it's hard) try and not be too critical of your child's reading ability or you run the risk of your child getting fed up and bored with it too soon.
6. Storytelling.
If you still have the privilege of reading to your child (I fear the day this ends!) then do so daily if possible. I know our lives are hectic but find some time to curl up with a book with your child or tell them a story of your childhood, your favorite memory of them or let them tell you a story they have created. We are all storytellers. Have other members of the family read to each other; older siblings love showing off their skills. If grandparents live far away, one way to stay in touch is to have them read a story over Facetime or Skype (my kids' favorite activity to do with their Nana and Papa).
7. Reading for meaning.
Sometimes reading a book just for sheer enjoyment is all that's needed. However, to expand your child's understanding of the text they just read you can help them make connections to the story in a variety of ways. With your kids, retell the story with a puppet show, bake something mentioned in the book or watch the movie (if there is one) after you've read the book to watch the characters come to life.
8. Make reading comfortable.
Set up a reading environment in the house which encourages children to enjoy reading. Cozy nooks, comfy chairs, cushions, and a reading tent are all great examples. Make sure books are accessible to children throughout the house (even in the toilet; it helps with potty training!) as well as craft supplies so children can make their own books (my oldest child is obsessed with creating little books right now)
9. Offer incentives.
Sometimes incentives and rewards are the only things that get children on the reading path. Local libraries have reading reward programs where children can collect stamps in their reading passport for each book they've read over the summer. Making a similar reward chart at home is doable by having your child earn stamps for good deeds and then using a trip to the book store or a new book purchase as the reward.
10. Let them read whatever they want.
Children will go through "reading phases" where they develop an obsession for an author or genre of book. Some of these "phases" are more tolerable than others. My son's obsession with The Captain Underpants series meant we were sometimes reading 2 of these books a week but I soon learned to love the somewhat inappropriate toilet humor in them as I saw the sheer innocent joy it brought to my son. So, whatever "reading phase" your child is going through, as long as they are reading, let it go.
Teachers are there to teach your child the fundamentals of reading. Your job as a parent is to inspire a love of reading within them.
This article was originally published on