10 Things I Never Thought I'd Have To Say…Until I Had Boys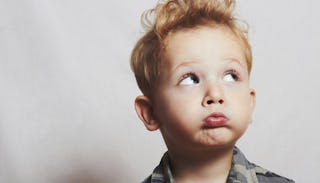 Image via Shutterstock
I have three boys. They are pretty mellow, on the boy-energy scale, and they are pretty well-behaved, on the boy-behavior scale. They are, however, creative. And sometimes I have to wonder what is going through those little blond heads of theirs.
When I imagined motherhood, I obviously didn't have a clue about what it would be like to raise only boys. I had no brothers and I think I imagined that the things that would come out of my mouth would mostly be wise and after-school-special-ish. Maybe we will get there, but I suspect not any time soon. For now, these are some of the things that have come out of my mouth. Each time, I have found myself thinking, "did I really just have to say that?" And so, I started keeping a running list. Here are some of my favorites:
1. It is NEVER okay to pee into the bed of your toy truck. Self explanatory, right? Not to my then 3-year-old. I remember it vividly. It was the front-loader WOW garbage truck. I guess I have to compliment his aim. The little bucket-part isn't very big.
2. Take your brother's underwear off your head RIGHT NOW. You'd think the thought of wearing another person's (ahem) "used" undies would be a natural turn-off, right? Not to that same 3-year-old. Being goofy totally trumps hygiene.
3. Do not stick your finger anywhere near your brother's eye ball. Ever. I honestly don't remember which kid did this. Probably that same 3-year-old.
4. Do not eat your ear wax. That had to have been the other one. He seems Kleenex-averse. I keep wondering when that whole eating-boogers thing is going to go away. No matter how insistent I am on a) how gross it is, b) how unhealthy it is, c) the actual make-up of boogers, it just persists. I truly think it is done out of convenience. This does not give me comfort.
5. Do not throw banana peels on the ground and then attempt to slip on them. This one was actually witnessed by my husband. I think it was an attempt by our 4-year-old (the aforementioned former-3-year-old) to recreate a Mythbusters episode. I should also mention that due to Mythbusters, my 7-year-old categorically refuses to wear jeans. Ever. Why? Because there was an episode about jeans spontaneously combusting (or something).He is quite seriously afraid if he wears jeans, he will catch on fire. No amount of discussion will convince him otherwise. Thank you, Discovery Channel, and thank you fashion-designers for all of a sudden making sweat pants hip and cool.
6. Do not leave your toothbrush on the floor next to the toilet where you might pee on it. That firehose is a dangerous thing. So much of what I thought I would never have to say relates to it. Not much that relates to pee or penises surprises me anymore. Well, okay, maybe #9.
7. Do not put boogers in your ear. Seriously. Did I just have to say that?
8. A pretend helmet can't actually protect your head. That's wise, right? You gotta love the imagination of a 4-year-old. Even if it might give me a near-heart-attack from time to time. This kid goes to the beach during 90-degree weather in full fireman-costume. And wears it the whole time.
9. Do not leave cups of pee in the bathtub. Okay, so my boys apparently needed to go mid-bath and didn't want to get out of the tub. So, they concocted a plan. They seriously thought they were doing some sort of science experiment to see what would happen if they left it there for a few days. This occurred during our 7-months-o'-colic-with-our-third, if you are wondering why there was not more supervision. I took out the trash. I scrubbed the floor around the toilet. I cleaned the toilet. I washed the rug. I could NOT figure out why I could not eradicate the smell. Then I found the offending cups. And we had to have a talk.
10. Don't put blackberries in your pockets. Blackberry bushes grow as weeds here in the Pacific Northwest. My oldest LOVES blackberries. He recently discovered these curious things built into his (non-denim) pants called pockets. Now he fills them with things. Like blackberries. Side-anecdote: somewhere around a month into Kindergarten last year, he decided he wanted to buy lunch for the first time. He was so enthusiastic about all the choices that when lunch was over, he stuffed his pocket with all the left-over stuff he didn't have time to eat. He came home with a pocket full of cherry tomatoes, snap peas, and peanuts. He was so excited to *show* us what he got for lunch.
I'm sure the list will continue for many years, and judging by the way the third boy-child is developing, he will add his own creative twist to mischief, but this is the stuff mommy-memories are made of, right? No seriously, right?
Related post: Your Penis Won't Fall Off And Other Things Boys Should Know
This article was originally published on