10 Things I Learned From Being Raised By A Single Mother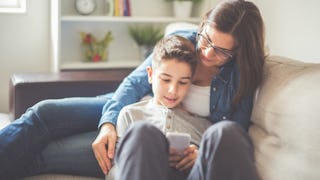 mixetto / Getty
Today is a milestone birthday for my mother — the woman who raised me and my brother, and the one who blessed me with a warm heart and good manners. In honor of her big day, here is an article I wrote a few weeks ago, inspired by her:
1. How to live on a budget.
We weren't rich and we weren't poor. My brother and I didn't have some of the extravagant luxuries our friends had, but we never wanted for anything we needed. I used to always tease my mom that she was cheap, but as I grew older, I learned that there's a significant difference between being cheap and living on a budget.
2. It helps immensely to come from a traditional family.
The money issue is obvious, but there's more than that. Both of your parents are at your disposal for anything you need — questions about homework, questions about life, quality time, etc. Even if the child(ren) sees/see both of their parents often, there is always time when one isn't around. It's a lot easier to just walk into a room and talk to them as opposed to having to make a phone call or get a ride to their house.
3. Family means everything.
I've always been extremely family-oriented on both sides, but when you come from divorce, it really shows you how important family is. A strong family picks one another up when they're down and it's amazing to see, be a part of and know is there.
4. Divorced kids aren't always messed up.
Just because someone comes from a divorced family doesn't necessarily mean that they are damaged. Everyone handles it differently. It's important to know that if you are considering or going through a divorce, you don't need to automatically assume that your kids will be "messed up" as a result. Generally, the less drama in a divorce, the less likely the kid(s) will be affected.
5. Doing things independently feels amazing.
During our talks through the years, my mother has told me about the joy and thrill that comes from being able to do things on your own. I had that feeling when I bought my first car four years ago, among other life events. Man or woman, independence is spectacular, if you can achieve it.
6. Respect and trust for your parent's significant other is earned, not given.
My mother made it a point to not bring a plethora of men around my brother and I, and I respected that. Her now-fiancé worked to earn our trust. Aside from the fact that he makes my mother the happiest I've ever seen her, I don't think it's a coincidence that I've grown to respect him more than most people in my life.
7. How to develop emotional balance.
One good thing about coming from divorce is that you don't really have the "good cop, bad cop" scenario. Since your primary parent is both, you learn how to be firm, yet understanding; you learn how to get a stronger hold on every other emotion in life.
8. How to treat a woman.
I think my parents did an exceptional job raising me with certain morals, especially when it comes to dating a woman. You pay for the date not because you have to, but because you want to. You don't expect for her to pay her end; if she does, it's perfectly OK to let her. It's also perfectly OK to insist on paying without forcing the issue. You tell her how you feel not because you think you have to, but because you want her to know where you're at. The list can go on.
9. How a woman should treat you.
A relationship is a two-way street. She should respect you as much as you respect her; she should treat you as good as you treat her; she should love you as much as you love her. One of the more important lessons I've learned: If she's not making you a priority when you are making her one, "ditch the bitch," as she joked.
10. There is nothing like a single parent.
I know the greater majority of single parents are mothers, but let's also not leave out the single fathers doing their thing. Even if they are getting a significant amount of child support, a single parent's job is incredibly tough and tireless. Money helps some things, but it doesn't cook meals; it doesn't drive kids to practice; it doesn't do laundry; it doesn't clean the house; money doesn't do any of that. Even when I was old enough to work, my mother wouldn't let me because "my only job was to do well in school."
Single parents are stars, and my mother lights up the night.
This article was brought to you by Thought Catalog and Quote Catalog.