Things To Do In Columbus, Ohio With Kids
by Jessica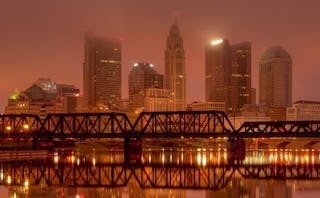 Columbus, Ohio offers a wealth of family-friendly activities, from zoos to kids theaters. Check out our list below of the best things to do in Columbus with kids.
Best Hotels in Columbus, Ohio for Kids
Comfort Suites East Broad at 270 offers free wi-fi and a free hot breakfast (an actual, real hot breakfast) plus a pool and hot tub, and an exercise center for the grownups. It has the added convenience of being near the airport as well as a number of area attractions, and it's very budget-friendly, leaving you more leftover for those area attractions.
The Hilton Columbus at Easton may look like a local branch of an Ivy League University, but it has a pool, and that's probably all you need to know when you're with kids. It also offers kid-friendly amenities like a children's menu, cribs, and playpens. Plus you're no more than 20 minutes away from the Museum of Science and Industry. Did we mention the pool?
With its location in the center of Columbus, Home 2 Suites by Hilton Columbus Downtown is a great place to stay if you want to be in the middle of everything. The suites are roomy, plus there are lots of outdoor seating areas, and even outdoor fireplaces and barbecue facilities. If you don't travel without Fido, it's pet-friendly too.
If you're looking for a hotel that feels like a resort, the Nationwide Hotel and Conference Center is located in a 15-acre park-like property next to Highbanks Metro Park, which is great for biking and walking. It also has both indoor and outdoor pools, a pond, and a courtyard.
Located on the Ohio State University Campus, The Blackwell Inn and Pfahl Conference Center offers large rooms, an on-site restaurant, a fitness center, a car service, and plenty of places to work. You also get access to Ohio State's recreational center.
Best Kid Attractions in Columbus, Ohio
If you're in Columbus with kids, it's time to get cozy—or, more properly—Cosi: the Center of Science and Industry. The museum features the largest planetarium in Ohio, plus a dinosaur exhibit, a giant-screen theater, and a host of interactive exhibits. Check out the "try-it together" workshop for the littlest explorers, as well as a hands-on space for playing.
One of the highlights of the world-class Columbus Zoo and Aquarium is the opportunity to have special access to the animals and their environments. Feed a giraffe, wander around a kangaroo habitat, or visit a lorikeet's home. Don't forget about visiting the rest of the inhabitants as well — with everything from lions to tigers to bears (oh my!) to manatees, sharks and snakes, your only problem will be finding time to do everything else.
The Columbus Children's Theatre offers family-friendly productions all year round, with such offerings as "Rapunzel," "Pete the Cat," "Disney's Frozen JR.," and "Bring It On: TheMusical." They also offer Theatre for the Very Young, which lets the youngest audience members enjoy short (often half-an-hour) performances to introduce them to the theater.
Why yes, thank you, we would like to bring our children to a place where they can run, climb, romp, and shriek (quietly) with joy while we sip coffee and watch them zoom around. It exists, you say? It's the Firefly Play Café in Columbus, Ohio? Consider us on our way. Psst—this huge indoor playground includes scooters and a train table, plus a kitchen area and a dress-up station (just for the kids, sadly).
If you can't decide between mini golf, go-karts, laser tag, and bumper boats—you actually don't have to. Magic Mountain Polaris has it all (plus a video arcade and a climbing play land). This is a place that takes their go-karts seriously—they have three different kinds, including one for the youngest drivers. One especially cool feature: it's pay-as-you-go, with no entrance or admission fee.
Best Restaurants in Columbus, Ohio for Kids
For an interactive dining experience, check out The Melting Pot, part of a chain of fondue restaurants. There's a kid's menu, but if you order the cheese fondue (probably not the best night to put Susie in her best dress, just saying), you'll get a choice of cheese combos, plus accompaniments like meat and crackers. You'll want to save room for dessert, which, is, yep, chocolate fondue, with choices including s'mores and bananas foster, with goodies like cream puffs and berries to dunk.
You had us at oompa band (yes, there really is one on certain evenings). At Schmidt's Sausage Haus und Restaurant kids will love the pretzel bites and the fact that pretty much half the menu is a variety of a hotdog. There's also a buffet option, so they can design their own meal. Also, Schmidt's is famous for their half pound jumbo cream puff, so save room, and invite lots of friends.
Located on the water, Milestone 229 features seasonal cooking, plus a kid's menu and lots of gluten-free options. The former has the standard pizza and grilled cheese, but it also offers a grilled chicken breast with skillet green beans, fried shrimp, and a peanut butter, (local) honey and banana sandwich. They have innovative cocktails for the adults and vegetarian options, and something called "big chocolate cake," which should probably be tried by someone.
Stopping by Jeni's Splendid Ice Cream is pretty much mandatory—you may well have heard of Jeni's even if you don't live in the midwest. The innovative flavors include sweet corn and black raspberries; goat cheese with red cherries; and midwest whisky and pecans. They even have dairy-free options (as well as cookies in cream and honey vanilla). They use local ingredients, and yes—there really is a Jeni.
Melt Bar and Grilled is all about craft beer and grilled cheese. Not just any grilled cheese—there are 12 different ones, with such add-ons as chorizo and potatoes, homemade meatballs, Korean bbq, and even deep fried lasagna—yep, it's on a sandwich. Even better news: The items on the kids' menu are just $4—except for Tuesday, when they're $2.
Best Outdoor Activities/Parks in Columbus, Ohio for Kids
At the Grange Insurance Audubon Center, families can gaze at goldfinches, song swallows, and tree swallows—more than 200 bird species have been recorded. With a focus on conserving and restoring ecosystems, the center offers numerous ways to interact with nature, as well as plenty of ways for kids to enjoy themselves—check their schedule for their story-time hours in particular.
With free events and more than six acres in the Downtown area of Columbus, Columbus Commons offers families an outdoor escape, especially during the summer. From June-August, there's Commons for Kids, with a new kids' program every week; they range from Pirate Day to Sports Day. Expect bounce houses, face painting, and crafts. Best of all? They're free. Yep, free, as in, now you'll have funds for that ice cream you were contemplating.
At the Franklin Park Observatory and Botanical Gardens, families can enjoy more than 400 varieties of plant life, visit a children's garden that celebrates the Ohio landscape, and gaze at Dale Chihuly's gorgeous glasswork (they were the second botanical garden in the world to host an exhibit of his work.) And don't forget to visit the Hot Shop, which features neither take-out foods nor a thermal spa, but does allow visitors to watch glass blowers in action.
As you wander through The Topiary Park, the carefully manicured figures made of yew may look familiar–and they should. They're mimicking the famous George Seurat Painting "A Sunday Afternoon on the Island of La Grande Jatte." The layout has been done in an exaggerated perspective–the figures in front are 12 feet tall, larger than the ones in the back. At the very least, you probably won't see anything like this anywhere else.
If the phrase "self-guided tree-top obstacle course" gets your pulse racing, then the Zipzone Outdoor Adventure Park is the place to be. The course has five trails and more than 60 challenges—but if that's not adventurous enough for you, there are also "Nightflight tours"—yes, you can zip across the trees in the dark. There's even a closer-to-the ground adventure for kids 4-7.
Parks in Columbus
Columbus is known for its fantastic array of public parks. In addition to the ones mentioned above, check out Schiller Park, 23 acres of parkland that includes basketball and tennis courts, a playground, and sports for picnicking.
Bicentennial Park features a fountain perfect for kids to cool off in during the warmer months, and if you walk down the Promenade, you'll find well gardens, swings, and—wait for it—free wi-fi.
If you venture to Battelle Riverfront Park, check out Pickaweekee Story Grove, with its bronze statues that tell the story of a Naive American boy.
And finally, Antrim Park, 120 acres surrounded by a quarried lake and running trails, has a stocked lake that's great for fishing.
For a first-person account of the best things to do in Columbus, keep reading!
Find yourself in Columbus with kids? We're here to help! Here are 10 things about my city that the whole family loves.
1. COSI. (The Center of Science and Industry) is a great place to take all members of your family, no matter their age. Fun can be found in every corner of this 320,000 square foot center. Pair that fun with the learning that your child (and you, too) will do and you've got a day you'll never forget. Permanent exhibits explore oceans, space, history and electronics, while newer exhibits have included Bob, The Builder, Lego Toys, Titanic, dinosaurs, the human body and much more. Have toddlers or pre-schoolers? COSI has got you covered. There is a great area for younger children to play that is safe and secure. With a tree house, a clinic, a giant helicopter and an area for splashing, your young kids won't miss out on the fun.
2. The Columbus Zoo and Aquarium has thousands of animals from all over the world including manatees, kangaroos and was home to the first gorilla born in human care in 1956. I would also recommend feeding the Lorikeets while you are in the Australian exhibit; it's a great experience for kids. World renown animal expert, Jack Hanna was the director for many years and is still partnered with the zoo. New to the zoo is Stingray Bay, a large salt-water pool home to dozens of stingray that can be touched and hand-fed.
3. Graeter's Ice Cream has been made here since 1870 and is one of many great places to eat, especially when you're in Columbus with kids. Their location on Bethel Road offers free self-guided tours of their production facility as well as a play area, "Scoops and Chutes." This is a great place to stop for an afternoon treat and to give kids ages 10 and under a place to burn off some extra energy.
4. Two of my favorite parks in the Columbus area are Slate Run Historical Farm and Innis Woods. Experience life on a farm over 100 years ago at Slate Run Historical Farm. Explore gardens, barns, a farmhouse and meet costumed staff who share what life was like during the 19th century. Learn with authentic tools, machinery and household goods. Self-guided tours are free of charge and fun for all ages. Innis Woods offers over 120 acres of gardens which include streams, wetlands, a rock garden and the Sisters Garden, a garden especially made for children.
5. Just north of Columbus in Delaware, Ohio lies the Olentangy Indian Caverns. Formed millions of years ago by an underground river, these caverns were used by Indian tribes as shelter and tribal ceremonies. The caverns are full of educational geological opportunities as well as Ohio history and chances to explore for the inquisitive child. While in the area, head over to Highbanks Park for lunch and a hike along the Olentangy River.
6. Santa Maria. Columbus is named after explorer Christopher Columbus. We are very lucky to have, on the waters of the Scioto River a replica of the Santa Maria, one of three ships Columbus sailed with when he discovered "the new world." On board tours explore the lives sailors lead while sailing aboard the real ships. Tours are limited and cease during the winter months so be sure to check out open times on their website.
7. Discover Downtown Columbus. The downtown area features a large number of restaurants, shopping and parks. The neighborhoods of German Village and The Short North offer unique opportunities for dining, shopping, historical and cultural events. While the Columbus Commons and Scioto Mile offer outdoor activities that include concerts, a splash pad, a carousel, walking and so much more. Both the Columbus Commons and Scioto Mile are within walking distance to COSI and the Santa Maria.
8. Columbus Museum of Art. On the first Saturday of each month from September to May you and your family can explore the Columbus Museum of Art. The Wonder Room is THE place to see with your children. It offers hands-on art activities like sculpting, fort building and creating with magnets. Don't miss the Innovation Lab and the Family Gallery either. Each month celebrates an artist or a current exhibit or theme and includes hands-on projects, interactive games and other activities like musical performances, storytelling or theater. There are a number of other family oriented programs offer throughout the month so be sure to check the calendar when planning your visit. While you are in the area, take a walk through the Topiary Garden where you will find a topiary recreation of George Seurat's famous painting A Sunday Afternoon on the Isle of La Grande Jatte.
9. The Franklin Park Conservatory and Botanical Gardens can't be missed if you are in the area during the months of March to September. The best event they have to offer for kids is Blooms and Butterflies. See the life cycle of a butterfly in person and walk through the indoor atrium with hundreds of butterflies. Your children's eyes will be full of delight when a butterfly (or 2 or 3) lands on their shoulder for a rest. There is an active family program as well and is usually free of charge if you can plan your trip around those dates.
10. The Ohio State University. A trip to Columbus with kids isn't complete without understanding the love it has for The Ohio State University. One of the America's largest universities, OSU is home to more than 55,000 students. It has a rich tradition in college football and if you are planning your trip to Columbus during the fall, you'll want to consider the football schedule. Home games bring over 100,000 people to the campus area (just north of downtown). You'll find attendance at area attractions like the zoo and COSI to be much less on these dates but traffic around the campus area a mess. Football fan? Definitely check out a game. Visit the campus during non-game Saturdays and take a walking tour or check out The Wexner Center for the Arts, The Oval, Mirror Lake, The Horseshoe and search for Brutus Buckeye around campus. Stand in the middle of a crowded area and shout "O-H," you'll get a rowdy "I-O" back from loyal Buckeyes.
MORE: Must-See Spots in Cincinnati for Family
Things to Do With Toddlers in Cleveland
Best Places to See in Seattle With Kids
This article was originally published on