Things To Do in Little Rock, AR With Kids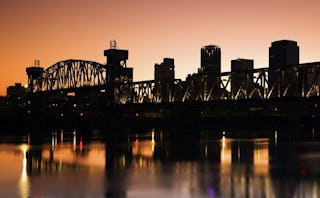 Little Rock isn't just the capital of Arkansas; it's also a great weekend getaway or even longer vacation. It's just a few hours from Memphis and was the perfect fall break destination for me and my six kids. And with so many free or relatively cheap outdoor activities, it is also a very affordable place to visit. Here are the best things to do in Little rock with kids.
SEE ALSO: Best Things to Do in Memphis With Kids
Top Spots to See in Nashville on Your Next Family Vacation
Climb a mountain. Pinnacle Mountain sits more than 1,000 feet above the Arkansas River Valley in Pinnacle Mountain State Park. Park facilities include picnic tables, playgrounds, a boat launch, biking trails and 13 different hiking trails. The major attraction of the park, however, is the hike up Pinnacle Mountain. There are two trails up the mountain, the family-friendly West Summit Trail and the more challenging East Summit Trail. But don't let "family-friendly" fool you. Neither trail is stroller or handicap accessible and even the West Summit requires hiking on uneven terrain. Open all year, Saturday-Sunday from 8 a.m. to 5 p.m. Read reviews of Pinnacle Mountain.
For the more adventurous, take the East Summit Trail to the top. At first, the East Summit seems like a normal hiking trail, consisting of a dirt path and a few downed trees as obstacles. However, once you reach about the halfway point, you are faced with a wall of boulders. You will be climbing up and over the rocks to reach the top. Older kids can take turns helping the younger kids make their way over the boulders. Both trails have points where it's possible to sit and rest before continuing your hike. Whichever trail you take, the view from the top is simply amazing.
Saddle up at Chief Whitehorse Trail Rides. Chief Whitehorse offers guided horseback rides through Pinnacle Mountain State Park. Even if you've never ridden a horse before, Chief Whitehorse guides will help you throughout the one-hour scenic ride through the park. The staff here is super friendly and the horses are very well trained. Your guide may even give your kids bananas to feed to their horses for a treat at the end of your ride. Open 7 days a week. Read reviews of Chief Whitehorse Trail Rides.
Visit the Museum of Discovery. If you are a fan of The Tonight Show with Jimmy Fallon, you've seen science expert Kevin Delaney. Delaney is the director of visitor experience at Museum of Discovery. Museum of Discovery, located at River Market in downtown Little Rock, is also a Smithsonian Affiliate. The museum features 90 interactive science and technology exhibits with rotating featured exhibits. Each of my children aged 9 through 18 enjoyed the museum. For preschool-aged kids, there is the Room To Grow, which is a hands-on area designed especially for those aged six and under. Open Tuesday – Saturday from 9 a.m. to 5 p.m.; Sunday from 1 p.m. to 5 p.m.; and Monday from 9 a.m. to 5 p.m. Read reviews of Museum of Discovery.
Stickyz Rock N Roll Chicken Shack is definitely worth a visit. I know, you've eaten too many chicken fingers already on your travels. But, seriously, these are not your usual fast food chicken fingers. Located almost directly across from Museum of Discovery, this restaurant has something for everyone in the family. Stickyz is a funky little restaurant with neon colors and oddly shaped tables and chairs.
The menu offers more than just chicken fingers, but really you're going to want to order the chicken fingers that come in flavors like hard garlic, jalapeño/ginger, voodoo and lemon pepper. Original recipe chicken fingers are also available if you don't want to try one of the other ten flavors. An assortment of homemade sauces is available for dipping. Stickyz offers live music on nights and weekends. There are age restrictions for the shows, but it has a very family-friendly atmosphere during the lunch shift. Open Sunday from 11 a.m. to midnight; Tuesday-Friday, 11 a.m. to 2 a.m.; Saturday, 11 a.m. to 1 a.m. Read reviews of Stickyz.
After lunch, cross the river to the Arkansas Inland Maritime Museum. Climb inside the USS Razorback, the longest-serving United States submarine responsible for rescuing American pilots shot down during World War II. Or, if this kind of museum is not your cup of tea, you can stay outside the sub and enjoy the sunshine along the riverbank while your family takes the guided tour of the submarine. The kids will enjoy climbing through the submarine as much as listening to the old war stories told by the World War II veteran volunteers. Open for summer hours Wednesday-Sunday from 10 a.m. to 6 p.m. (last tour begins at 5:30 p.m.); during winter, open Friday, Saturday and Sunday from 10 a.m. to 4:30 p.m. Read reviews of the Arkansas Inland Maritime Museum.
Related: Cool Outdoor Games For Teens That'll Have Them Feeling Like A Kid Again
Take a stroll through River Market. The River Market area is where you'll find antique stores, souvenir shops, restaurants, candy stores and the Ottenheimer Market Hall for even more specialty goods and food. First Security Amphitheater will occasionally host a BMX bike demonstration that will hold your kids' attention for quite a long time. Open Monday-Saturday from 10 a.m. to 6 p.m. Read reviews of River Market and Ottenheimer Market Hall.
Walk or bike across the Big Dam Bridge. Yes, that's really its name. This 4,226-foot bridge is built 90 feet above the Arkansas River and is the longest pedestrian and bicycle bridge in the world. The bridge also provides access to the Clinton Presidential Center. Read reviews of Big Dam Bridge.
Visit the Splash Park. Kids, no matter how old they are, just can't stay away from water. So good thing Peabody Splash Park is designed to let them have fun and get wet. The underground tunnels, climbing stones and splash pad provided a nice place for us to take a break from our sightseeing. The younger kids could run around and burn off some steam while the older kids acted like they were too cool for the splash pad. Of course, they eventually ended up just as soaked as everyone else. Open during park hours. Read reviews of the Peabody Splash Park.
The Arkansas State Fair is a good old-fashioned state fair like you remember from your younger days. Our Fall break visit to Little Rock just happened to coincide with the final weekend of the fair. Our hotel had discount admission coupons, so off we went to the fair one evening. Cold lemonade, hot corn dogs and dizzying rides soon had us all on stimulation overload. But the fairgrounds were clean and the staff was friendly and helpful. Fair is open October 11-20. Read reviews of The Arkansas State Fair.
By this point, if you haven't had your fill of Little Rock yet, you and your family should visit Clinton Presidential Center and Park. That's right, Clinton as in President Clinton, who is from Little Rock. There you can stop by the Clinton Library to see a full-size scale replica of the oval office and the 110-foot historical timeline. It is definitely a special tourist destination in Little Rock. Open Monday- Saturday from 9 a.m. to 5 p.m.; Sunday, 1 p.m. to 5 p.m. Read reviews of the Clinton Presidential Center.
MORE: Top Things to Do in Jacksonville With Kids
Best Spots in St. Louis for Your Next Family Vacation
Cool Things to See in Cleveland With Family
This article was originally published on