Things To Do in London With Kids
by Nan Sheppard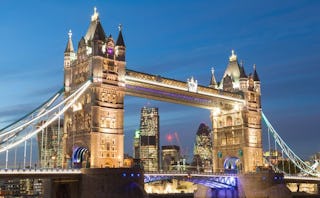 The city of London has survived Viking attacks, burning, bombing, battles, conquests, sieges and terrorism. It is full of great stories, and there are ancient buildings alongside brand new skyscrapers. You may be wondering what there is for kids to do in a city so rich in history—after all, Buckingham Palace is a palace like the ones they hear about in fairy tales, but staring at it for hours may not be as exciting to little ones as it is to you. Here are the best things to do in London with kids, from visiting Big Ben to the London Eye and more. And keep in mind, London follows military time so the hours below reflect their own hours.
The Science Museum is full of hands-on demonstrations that will thrill any budding engineer, and is the home of the oldest surviving steam train, "Puffing Billy." Learn about the properties of materials and how flight was made possible. New exhibits document the rise of digital technology, and Google has got some mad interactive stuff going on in the basement. Kids can see some awesome AI-driven cars, explore space and learn more about cyber security. Open daily from 10:00 to 18:00 (last entry at 17:15) — 0r 6 p.m. our time. Read reviews of Science Museum.
The Natural History Museum is one of three must-see museums on Exhibition Road, South Kensington: The Natural History Museum, The Science Museum and The V&A. The Natural History Museum is by far the coolest thing for kids in London and a must see. If your child has ever shown even a fleeting interest in dinosaurs, this museum is famous for its collection so go. There are skeletons galore, animatronic velociraptors and a terrifyingly lifelike t-rex. Besides the obvious dinosaur epicness, there are 70 million specimens of minerals, insects, and other interesting things for kids to see. And while your children are gazing at scorpions, plate tectonics displays and blue whale skeletons, look up.
The Natural History Museum is also famous for its ornate architecture. On floor tiles and columns you will see sculpted animals and leaves, and the ceilings are stunning. Open daily from 10.00 to 17.50. Read reviews of The Natural History Museum.
See Also:
More Places to Bring Your Kids in London
Scary Mommy Travels: The London Edition
The Victoria and Albert Museum is not as child-centric as the other museums, but it is a beautiful place and the grownups in charge deserve a visit after all of the dinosaur fun. Head upstairs to the ceramics department, where kids can practice stacking plates for firing and see what happens when a kiln over fires. Little girls will love the fashion exhibitions and there really is something for everyone. Entry to all of the three museums is free. They are very near to one another and surrounded by child-friendly cafes and picnic areas. We recommend arriving early (the London museums generally open at 10 a.m.) since the crowds throng in by lunchtime. Open daily from 10.00 to 17.45; Fridays from 10.00 to 22.00. Read reviews of The Victoria and Albert Museum.
If the sun comes out (it's been known to happen!), head to The Regent's Park. It's the home of the London Zoo, where you can see lions, penguins and more. And the 2,500 acre Richmond Park itself is worth a day's visit, with woods, wildflowers and herds of deer. Kids love to run wild here, and they can hide in hollow trees, climb, build forts with branches, get muddy and yell to their heart's content. There is some special natural beauty at almost every time of year, from bluebell woods to autumn leaves. When you are all worn out, have high tea at Pembroke Lodge, a Georgian mansion with delicious cakes and spectacular views of the Thames Valley. Open daily from 5.00 to 21.00. Read reviews of The Regents Park.
Covent Garden is one of a kind, a sort of market and town square. You can buy all sorts of things from antiques to designer perfumes to quirky wooden toys (go downstairs for these). But the best thing about Covent Garden is the street acts. A guy juggling deadly swords while balancing atop a ladder; tumbling acrobats completely covered in green paint; magicians, singers and clowns. They make for an entertaining afternoon, and there are good things to eat while you wait for the next act. Shops open Monday-Saturday from 10 a.m. to 8 p.m.; Sunday from 11 a.m. to 6 p.m. Read reviews of Covent Garden.
A palace should really be in your list of things to see in London, if you want the full English experience. Kensington Palace and Buckingham Palace are both open to visitors and child friendly. Hampton Court has a cool maze where you can lose the kids, and several interesting ghosts. Kensington Palace is the birthplace and childhood home of Queen Victoria. You can explore the royal King's State Apartments, the Queen's apartments and get lost in the world-famous Sunken Gardens. Open Monday-Sunday from 10.00 to 18.00 (last admission at 17.00). Read reviews of Kensington Palace.
Now if you're more interested in the current residence of a Queen, you and your family will want to make a stop at Buckingham Palace. Inside, you'll be able to see the Throne Room, Grand Ballroom, and perhaps the most exciting of all—the Treasures of the Palace. The Garden is gorgeous as well on a sunny day and the Grand Staircase is guaranteed to take your breath away. Open for tours July through September and during select dates during winter and spring. Tours start at 9:30 in July and August through 19:30 and from 9:30 through 18:30 in September. Read reviews of Buckingham Palace.
Pickfords Wharf is the home of 'The Clink', one of the oldest and most notorious prisons and now a museum sure to fascinate small boys. Sir Francis Drake completed his circumnavigation of the world at Pickfords Wharf, and a re-creation of his ship, The Golden Hinde, can be visited here. Staff in full period costume provide guided tours, perfect for any aspiring 16th Century ship's mate. Eat at the Old Thameside Inn, where you will have a good view of London Bridge. Open daily in the summer from 10.00 to 21.00; in the winter open Monday through Friday from 10.00 to 18.00; weekends, 10.00 to 19.30. Read reviews of The Clink.
For a bird's eye view of London including the Thames and the Houses of Parliament, hop aboard the London Eye, one of the world's largest Ferris wheels. From the top you'll be able to see the most breathtaking views of the city. Open daily from 10.00 to 20.30. Read reviews of London Eye.
The Diana Memorial Playground in Kensington Gardens was built as a tribute to Princess Diana. The design was inspired by the stories of Peter Pan, so expect an enormous wooden pirate ship, wigwams, water play, a beach, a sensory trail and other hidden wonders. The playground truly is inclusive of kids of all abilities and ages, but real fun for younger kids. Open May-August, 10.00 to 19.45; April-September, 10.00 to 18.45; March-early October, 10.00 to 17.45; late October-February, 16.45; November-January, 10.00-15.45. Read reviews of London Eye.
This might sound cheesy, but a good open-topped bus tour is not just for old biddies! London's streets are full of incredible history, and up above street level is the way to experience it. Find a tour bus with live guides, not the pre-recorded ones. Sit near to them and let them know that you are a big fan of Harry Potter, or dragons, or the Great Fire of 1666. They love an enthusiastic audience and will entertain you. Did you know that there are four stone dragons that still guard the four corners of Ancient London? See if you can spot them!
The London Eye, the Sea Life Aquarium, Big Ben, and Westminster Abbey are all in the same area. Start out on the London Eye. This is one of the biggest ferris wheels in the world. It is a 30 minute ride in a glass enclosed capsule that will give you amazing views of London. After your ride you can visit the Sea Life Aquarium. After you have had your fill of the Sea Life Aquarium take a little walk to view Big Ben as well as all of Westminster. Big Ben is what everyone calls the infamous clock/tower that is attached to Westminister. Read reviews of Big Ben.
Marks & Spencer has everything: Clothes, food, home goods, makeup and perfume. The prices are reasonable and you can definitely stock up on some fun fashionable clothes at reasonable prices. In the United States we have Duane Reade, Walgreens, CVS. In London, they have Boots. Whatever you need from medicines to makeup to shampoo to a quick snack and beverages you can find it at Boots, and they are all over London. Read reviews of Marks & Spencer.
Battersea Park Children's Zoo is such a fun zoo that your family will want to go twice in one week.Your whole family will have so much fun here. There is a huge array of exotic animals including: donkeys, ferrets, maras, African Grey parrots, chickens, Diamond Doves, Box Turtles, Bearded Dragons, and so many more. Plus they have a great kids area that can keep the little ones entertained for hours. In addition there is a cafe which is a perfect spot to grab a bite. Open spring and summer daily from 10.00 until dusk. Read reviews of Battersea Park Children's Zoo.
The British Museum is filled with priceless works of art and objects. There are also special exhibits. The museum does have a special Children's Audio Guide, but it can be frustrating to use. However, your kids will still be able to enjoy this place as they have hands-on areas throughout the museum. At the areas they would have someone to explain about the objects in front of them. Children and adults can ask questions as well as handle the objects. Going to The British Museum is definitely a hand's on experience which is wonderful for all ages. Open daily from 10.00 to 17.30. Read reviews of The British Museum.
MORE: Best Places to See in Barcelona With Kids
Things to Do in Paris on Your Next Family Vacation
Must-See Spots in the Netherlands for Kids
This article was originally published on