Things To Do in San Francisco With Kids
by Tarja Parssinen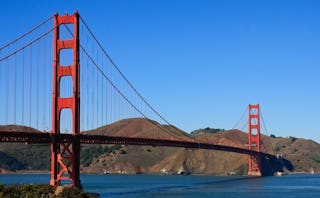 Visiting San Francisco with kids? Lucky you! There's no shortage of fun to be had in this gorgeous city with tons of exciting landmarks and family-friendly attractions. Here are the best things to do in San Francisco with kids.
Best Attractions in San Francisco for Kids
The Ferry Building is a must for locals and out-of-towners alike. Built in 1898 and totally renovated, it's a cherished gem with restaurants, specialty food stores, and a world-class farmer's market.
It can be a mad-house so we suggest a quick jaunt to get sourdough from the Acme Bread Company, the addictive Mt. Tam cheese from Cowgirl Creamery, a little vino from the wine shop and head out back to watch the ferry boats while enjoying an al-fresco sandwich like you're right out of Italy. Or if you have 2.5 seconds before the kids go insane from hunger, you can head off the beaten path of the Ferry Building to Gott's Roadside Tray Gourmet – a great kids menu, interesting items for the adults, fast seating and fast service.
Head down the street to Pier 41 and hop on a quick ferry to Angel Island! The largest natural island in the bay, it has bike rentals, miles of hiking trails, lovely beaches, tram tours, and when you get hungry, the Cove Cafe and the Cove Cantina Oyster Bar – all of which are totally kid-friendly and a great way to stretch the legs. Remember, however, that if you decide to do a Segway Tour of the island, the hilarity factor increases dramatically.
Best Ice Cream in San Francisco
Although the Ghirardelli Chocolate Factory is no longer at Ghiradelli Square, it's still – ahem! – a sweet spot to visit. There are free guided walking history tours several mornings a week, after which mommy (and whomever mommy deems worthy) deserves to go to the Ghirardelli Ice Cream & Chocolate Shop. If it's rainy or god-awful-foggy-and-cold, do what the locals do and head to the gorgeous and amazing Peekadoodle Kids Club. The day-passes are pricey, but see if your hotel can finagle you a deal. Isn't your sanity worth it?
San Francisco ain't done until the cable cars are did. A place for you to rest your weary bones and entertain the children, the Cable Cars are wonderful fun. Hop on the Powell-Hyde Line at the bottom of Hyde Street by Ghirardelli Square and head up to the original Swenson's Ice Cream on Hyde and Union that opened in 1948. If you're making a meal out of it, start with Za Pizza next door. When you're done stuffing your faces, climb to the top of Nob Hill. The gorgeous Huntington Park awaits the kids – and the fully stocked bars await parents at the surrounding hotels.
Activities in San Francisco for Kids
It's raining? You don't say. Head on over to the California Academy of Sciences, the best bang for your cabin-fever buck. It boasts a 4-story rainforest, a swamp, a coral reef, a planetarium, and so much more. The kids will love it, you will love it, and did I mention the cafe is out of this world? I would kill for that Vietnamese noodle salad. Oh, don't worry, they have french fries and a whole assortment of kids items too.
Next up, Crissy Field, a former air-field turned park and one of the best spots to view the Golden Gate Bridge while playing on the beach, going for a walk or riding a bike. We recommend doing a picnic lunch and grabbing some food at the Warming Hut Cafe on the west end or – a fan favorite – a hotdog from the Let's Be Frank hotdog stand. For the older kids, there's also House of Air, an indoor trampoline park, and Planet Granite, which has a fun climbing wall.
Kids won't sit still at dinner? Who needs chairs! People are raving about the off-the-grid food trucks in the Fort Mason Center parking lot on Friday nights. How can you go wrong with options like Kung Fu Tacos, Seoul On Wheels, Curry Up Now, and the Creme Brulee Cart? You had us at Empanadas, Fort Mason Center. Word to the wise: go early.
With weather frequently touch-and-go, the Presidio Bowling Center is always a good family option, even for the littlest gutter-balls of the group. And located in the lush Presidio Park, there are hiking trails and so much more if the sun should make an appearance.
One of my favorite places to go with kids – in sunshine or rain – is the Bay Area Discovery Museum in Sausalito. It has an amazing indoor and outdoor space, including art studios, a tot spot for the little ones, a train room, a wave workshop, and Lookout Cove, a 2.5-acre outdoor play area. Starting in the fall, Miss Kitty, a beloved local musician, plays kids music a few mornings a week as well. Make a day of it, get lunch at the cafe and sit outside with a view of the city.
We love the Laurel Heights neighborhood in San Francisco and the Clay Street Playground is a newly-renovated gem there. Let the kids romp around and then walk on over for a meal at Rigolo Cafe, which boasts being "the most child-friendly restaurant in SF." There's even a toy area in the back, so kick back and relax. At least for two minutes.
MORE: Spots You Must See in San Diego With Family
Things to Do in Los Angeles With Kids
Visiting Seagrove Beach With Family
This article was originally published on