10-Year-Old Bullied For Her Dark Skin Creates Line Of Empowering T-Shirts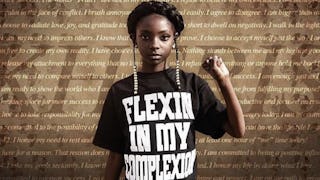 Image via Instagram
After being picked on for her dark skin, a little girl created t-shirts celebrating it
"Flexing My Complexion" is what Kheris Rogers named the line of t-shirts she created to fight back against the bullies who singled her out for having dark skin.
In March, Taylor Pollard posted a picture of her little sister Kheris on Twitter, and the image went viral, giving the 10-year-old the confidence boost she needed — and the inspiration for her shirts.
Kheris spoke with Mic about the tweet, and how her fashion line came about.
"I've been bullied a lot, like in the first grade, I went to school with just four other black kids," she shares. "And kids used to bully me because they weren't used to my skin tone. There was an incident with a teacher and we had to draw ourselves and she gave us a black crayon instead of a brown crayon, and I was really upset."
She teamed up with her older sister to create t-shirts with the slogan 'Flexin' in my complexion' to help empower other kids facing similar challenges.
https://www.instagram.com/p/BUlGnqnl4er/?taken-by=kherispoppin
"I feel confident in it myself because, even if I still get picked on because I'm darker, when I put on the T-shirt, it makes me feel bold," Rogers says.
https://www.instagram.com/p/BUYPG3nF75g/?taken-by=kherispoppin
"I just hope that especially for younger kids, people start to feel more confident in their skin," Pollard says. "It doesn't matter how dark or light you are, just knowing that it's beautiful and that your complexion doesn't determine your beauty."
https://www.instagram.com/p/BUPde1TlAN8/?taken-by=kherispoppin
All the good vibes and reinforcement Kheris was sent after Taylor posted that tweet not only served as a confidence boost, but helped her realize she's not alone.
"Kheris really thought she was the only one going through this, but Kheris now realizes that this is a global issue," her sister says. "That's what pushed Kheris, because she thought 'If I'm feeling this way, then we want to help others who are feeling bad about themselves too.'"
Kids respond to bullying in a variety of ways, but this is the most creative and productive response we've ever seen.
We're not sure how anyone looks at Kheris Rogers and sees anything but a gorgeous little girl, and now that she has her own line of t-shirts, she's a confident and successful one too. Kheris and Taylor have big plans for their shirts, and after more than 80,000 people liked the tweet that kicked it all off, they seem to have a built-in customer base already.
https://www.instagram.com/p/BTxonl1lOoQ/?taken-by=kherispoppin
They plan to add shirts and crop-tops to their line, as the warm weather lands. Says Taylor, "It's about to be summertime, so we'll be coming with you."
We hope they send a free shirt or two to those bullies.