10-Year-Old Delivers Baby Brother -- And Saves His Life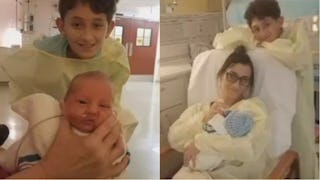 Image via KPLC.
Jayden Fontenot's mom went into labor at home
A 10-year-old has the coolest story ever of how he met his baby brother for this first time: he delivered him and saved his life. Jayden Fontenot was at home with his mom last Friday when their lives changed forever.
Ashly Moreau of Sulphur, Louisiana, went to the bathroom that day and realized her baby's feet were hanging out. She was in labor despite being only 34 weeks pregnant. Moreau's fiancé was at work, so Jayden ran to his grandmother's house next door and had her call for help. His grandma couldn't help his mom with the delivery, so the 10-year-old ran back to his house to be by his mom's side.
Moreau was on the bathroom floor bleeding when she told her son that the baby wasn't breathing. "When he got to the bathroom, he just took a deep breath and said, 'ok, Mom, just tell me what I need to do,'" she told KPLC. This kid might be the best example ever of "keep calm and carry on." If someone went into labor near me and needed my help, I'd likely faint just from thinking about what needed to happen. But not Jayden. He kept it together better than most adults who just have to watch their kids be born. "He didn't look scared, he looked calm and brave," his mom shared. "And I said 'ok, I'm going to tell you what to do and we need to get your brother out as fast as possible because he's breeched and he can't breathe.'"
The 10-year-old hero pulled his baby brother out by his legs. The baby still wasn't breathing, and his mom was still on the bathroom floor and losing a lot of blood. Thankfully, Jayden found a nasal aspirator in the kitchen and was able to clear his baby brother's nose. Shortly after the incredible birth, emergency medical professionals arrived and transported Moreau and her newborn to a nearby hospital.
The mom of three told reporters it was the scariest moment of her life. According to KPLC, doctors said the baby wouldn't have started breathing and Moreau would have bled out during labor had Jayden not been there to help. His mom summed up her feelings about Jayden's actions: "He's my hero."
This article was originally published on