10-Year-Old Bullied For His Medical Condition Dies By Suicide
by Valerie Williams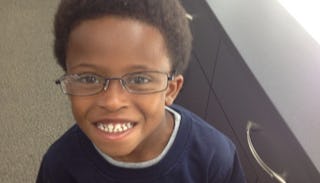 Image via GoFundMe
A 10-year-old boy with a medical condition was bullied relentlessly — and his parents say it ultimately led to his death
Tami Charles came home from a brief grocery store trip last Saturday to every mother's worst nightmare — her 10-year-old son, Seven Bridges, dead of apparent suicide. Now, she and her husband are grieving the loss of their son — while bringing awareness to the bullying that ultimately killed him.
According to WHAS 11 News, Charles returned from the store to find her son in his closet where he had passed away. "I saw my son dead. That's something in my head," she told the outlet. Her husband, Donnie Bridges, was at a church choir practice while Charles was running the brief errand. It was in that time that Seven took his own life.
"For the few minutes that we left, he didn't want us to see that," Bridges says.
The parents tell WHAS that Seven was a "miracle" baby with Charles being told previously that she couldn't have children. But once Seven was born, health issues began that would remain for his entire life. "Twenty-six surgeries from the day my son was born. Twenty-six surgeries. He just wanted to be normal, that's all," Charles says.
His condition required a colostomy bag, and it was that medical apparatus that caused peers at Kerrick Elementary School to bully him. According to People, the colostomy bag was eventually removed but the child still had difficulty when waste would leak from the area. Children at his school allegedly teased him for the odor it caused.
WDRB News reports that the situation with Seven's bullying came to a head when the child was allegedly choked and called a racial slur on the school bus.
"He couldn't fight back," Bridges says. "He didn't know how to hurt you. He had no malice, none."
The incident was brought to the school and an investigation was opened — a decision that Charles says only made things worse for her son at school. "Because I was so aggressive in advocating for him, they started to act differently toward him," said Charles, referring to students and faculty at Kerrick.
Heartbreakingly, a month before he died, Seven was sobbing in bed and telling his parents he wanted to "let the past be the past," but his tormentors only made things worse. "We cried that night," Charles tells WDRB.
Seven dying by suicide was a shock as Charles thought starting a new school soon would help him. "We kept telling him this will all be over," she said. He was due to begin sixth grade at W.E.B. DuBois Academy this fall.
Renee Murphy, Jefferson County Public Schools Communications Director, told WDRB, "We are devastated. Our hearts are breaking for this family. This school community is hurting right now."
Charles tells WLKY that the school didn't do enough to help her son. "We found that the school system had a lot of holes and a lot of inconsistencies with their policies about bullying," she says. "They stood on the verbal message, the lip service of zero tolerance, but they did not deliver."
"We just wanted to raise a happy kid, live our lives and be OK," says Charles. She also has words for her son's bullies. "Forgive yourself. Seven did. He forgave you already. He found his peace; it's time for you to find yours."
There's a GoFundMe set up for Seven to help defray costs of his funeral and help his family while they grieve this enormous loss.
This article was originally published on