10-Year-Old Fatally Shoots Himself While In A Time Out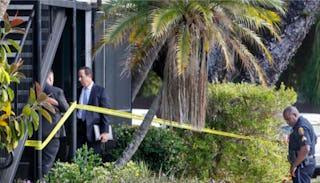 Image via Twitter
The death is being investigated as a possible suicide
A young boy whose mother sent him to time-out for acting up before school somehow got his hands on the family gun and ended his own life.
The gun was legally owned, but that doesn't make any of this less tragic.
The tragic incident took place in Clearwater, Florida, and a story in the Washington Post reveals that Olga Grusetskaja sent her son, Ian, to time-out in a room in their apartment for a "behavioral issue," and that's when he found the gun and fatally shot himself.
It's unclear how it happened, though his death is being investigated as a suicide, but the story unfortunately plays into one of 2016's most prevalent trends – that of children being harmed by firearms. According to gun control group Everytown For Gun Safety, 2016 saw 247 incidents in which a young person aged 17 or under accidentally harmed or killed themselves or someone else with a gun.
All it took young Ian was one shot, with one bullet, whether it was intentional or not. And now his family – including his father and brother who weren't home at the time and upon returning, were "overcome with grief" – is left to pick up the pieces.
Though investigators are currently considering Ian's death a suicide, that didn't stop Clearwater's Police Chief Dan Slaughter from weighing in on gun safety and responsible ownership at a press conference last week.
"There are rules and restrictions on making sure that you keep a gun in a safe manner that's not accessible to a child," he said. "I think it's just a responsible thing to do as a gun owner. I'm not in a position to debate the Second Amendment here or anything, but with certain rights … in the Constitution come great, great responsibility. And if a person chooses to own a firearm there is responsibility for them to keep that in a safe location."
The Associated Press and USA Today reports that in the first half of 2016, children died as the result of accidental shootings, either by someone else or at their own hands, at the pace of about one every other day. To say this number is unacceptable is an extreme understatement. Meaningful change in regard to gun safety needs to occur, or it's our kids who will pay the price.
This article was originally published on