This 102-Year-Old Is Skydiving, What Did You Do Today?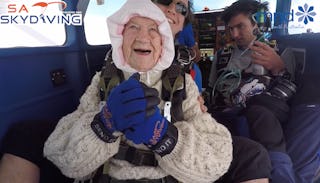 Image via Facebook/SA Skydiving
102-year-old Irene O'Shea became the world's oldest skydiver to raise money and awareness of the disease that killed her daughter
10 years ago, Irene O'Shea's daughter died from motor neuron disease. Now, 102-year-old O'Shea is raising money and awareness to fight the disease in pretty much the most badass way possible: By becoming the world's oldest skydiver.
This is her third consecutive year skydiving with SA Skydiving in Wellington, Australia, which already makes her way cooler than your average grandma. But this year, her age of 102 years and 194 days makes her the official oldest person ever to skydive. The record was previously held by Bryson William Verdun Hayes, a British D-Day veteran who jumped out of a plane in May of 2017 at the age of 101 years and 38 days old. O'Shea's jump was made to raise money for MND South Australia (and you can donate to her cause here!).
SA Skydiving was kind enough to document O'Shea's jump in a hilarious and touching video they posted to Facebook. Seriously, just wait for the end when you get to see O'Shea's post-jump smile. It is everything.
According to reports, O'Shea jumped from around 14,000 feet, which allowed her to free-fall at 136 mph before her chute was deployed, which is pretty insane. This was a tandem jump, which means she was attached to an experienced instructor: Jed Smith, a paramedic who's logged thousands of jumps as a professional skydiver.
Dressed in a cable-knit sweater, O'Shea seriously looked like a sweet grandma getting suited up and ready to jump.
She was tucked into a special harness that helped keep her body in the right position during the jump.
And when she landed, she was all smiles.
Motor neuron disease is a muscular degeneration disease that progresses slowly over time. It's uncommon, but Australia's Brain Foundation estimates that 400 new people are diagnosed each year. There is currently no cure, and no way to prevent MND.
Basically, O'Shea is the inspiration we all need in our lives. If a 102-year-old grandmother can become the world's oldest skydiver, all to raise money to save lives, you can do whatever thing it is you're afraid of. Now go do it.
This article was originally published on