Gift Ideas For Your Artsy, Creative Kiddo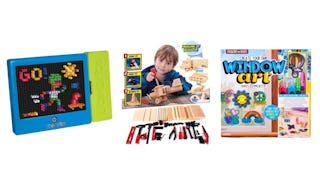 Walmart
If your child is creative, you're no stranger to disasters caused by Play-Doh, glitter, and tiny scraps of paper. We aren't saying these gifts are less messy, but they sure are fun!
Your kids will love these, and your windows will be covered in beautiful art. Bonus!
Kids love paint. Just maybe, watch out for your walls with this one.
There are kids who love smile, and then there are kids who are completely obsessed with it.
It sticks together like magical beach sand! Let's be honest, we all want to play with this.
The should really just call this, The Creative AF Tub.
Every '90s kid knows how much fun these are!
You can create your own car. How awesome is that?!
What kid wouldn't be excited about burning wood?
It looks like wood, but it's foam, so when they chuck it at their siblings no one will need stitches.
An easel is good for hours of fun.
There are no limits to what kids can do, and these gifts are guaranteed to spark some major creativity.
We are a participant in the Walmart.com Affiliate Program and may earn fees by linking to Walmart.com and affiliated sites.
This article was originally published on