11 Must-Reads For Summer (Written By Badass Women)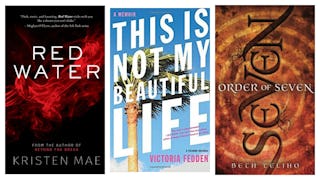 Amazon
It's Summer, and you know what that means: Underboob sweat and endless hours of listening to your children argue. Woo!
Just kidding. It means it's time to shoo the kids outside to play, so you can lose yourself in a great book…or eleven. To help you achieve this, we've compiled a kickass selection of books by both well-known and up-and-coming authors spanning a variety of genres. The one awesome commonality of the books in this list? They're all written by amazing women. In the spirit of solidarity, we wanted to shine a spotlight on our fellow females' fantastic fiction (okay, and non-fiction too. Perhaps we overdid it with the alliteration). And so, without further ado, these are eleven of our favorite literary Wonder Women.
Roxane Gay, Hunger (Memoir/Biography): Newly released, we predict this one will go big. Publishers Weekly says, "This raw and graceful memoir digs deeply into what it means to be comfortable in one's body. Gay denies that hers is a story of "triumph," but readers will be hard pressed to find a better word." If you're a woman, and you inhabit a body, you don't want to miss Hunger.
Meghan O'Flynn, Ash Park series (Psychological Suspense/Mystery/Thriller): A clinical therapist-turned-novelist, O'Flynn delves into the darkest recesses of the human psyche with uncanny, cringe-inducing precision and whip-smart prose. Hailed as "A worthy heir to Patricia Cornwell and Tana French," her Ash Park series is dark, many-layered, and gasp worthy, with twists and turns you don't see coming. Hidden, the fourth mystery/thriller in O'Flynn's bestselling Ash Park series, has just been released, and Famished, the series opener, is currently discounted to only $.99.
Jen Mann, But Did You Die (Anthology/Humor/Parenting & Families): A hilarious collection of terribly good parenting advice. Jen Mann has rounded up a group of some of your favorite Know-It-All parents (and that one childless friend we all have who loves to tell us how we're doing it wrong) to let you know that you could be doing so much worse. They set the bar low to make you feel better. You're welcome.
Kristen Mae, Red Water (Literary/Erotic Thriller): An Amazon bestseller, Red Water is far more than your average romance (if it can be called romance at all). Boldly erotic, but with rich, poetic prose, Mae's second novel is an unflinching examination of the psychology of self-loathing and the secret, unspeakable lust for depravity that lies dormant within each of us. Sexy, raw, and disturbing, and with deeply flawed but relatable characters, Red Water is a novel that will make you uncomfortable, but which you also will not soon forget. (And it happens to be on sale right now for only $2.99.)
Han Kang, The Vegetarian (Literary Fiction): Winner of the 2016 Man Booker International Prize, The Vegetarian is one of those novels whose scenes leave kind of a gross taste in your mouth, and yet you still can't stop yourself from devouring the entire thing. Kang's visceral, minimalist writing shoves you right into Yeong-hye's world, so you experience, at a gut-deep level, both the injustices commited against her as well as her slipping sanity—while also wondering who exactly, in this story, is the crazy one.
Beth Teliho, Order of Seven (Young Adult/Thriller/Ancient Civilizations): Young Devi Bennett is surrounded by mysteries: her unknown heritage, a recurring dream about an African tribal ceremony, an inexplicable attachment to a certain tree, and a psychic ability she'll never understand – unless she finds her biological parents. But when research leads to an ancient legend which may link to her birthright, Devi learns her gift is more imperative than she thought imaginable. Suspenseful and sexy, philosophical and adventurous, Order of Seven will leave you questioning everything you thought you knew about the hands that carry fate.
Victoria Fedden, This Is Not My Beautiful Life: A Memoir (Memoir/Humor/Families): A hilarious and unexpectedly moving memoir of a barely-functional family, This Is Not My Beautiful Life is the story of how Victoria lost her parents to prison and nearly lost her mind. No one ever said motherhood would be easy, but as she struggles to change diapers and install car seats, she's also forced to ask herself whether a jump-suit might actually complement her mom's platinum-blonde extensions and fend off the cast of shady, stranger-than-fiction characters (like the recovering addict who scored a reality show when he started an escort service for women) who populated her parents' world.
This Is Not My Beautiful Life: A Memoir
Yaa Gyasi, Homegoing: A novel (Literary/Historical Fiction/African American): Winner of the NBCC's John Leonard First Book Prize and One of Oprah's 10 Favorite Books of 2016, Homegoing is the story of two half-sisters, separated by forces beyond their control: one sold into slavery, the other married to a British slaver. Spanning centuries and generations, Homegoing makes history visceral, and captures, with stunning immediacy, how the memory of captivity came to be inscribed in the soul of a nation. To illustrate the importance of this book, we give you a snippet of one of the Amazon reviews: "As a white man, I have been told that I am privileged. This book brings it home."
Mandi Castle, Dear Stephanie (Women's Fiction/Psychological): Winner of the National Indie Excellence Award for a Contemporary Novel, Dear Stephanie chronicles the journey of young, selfish, rich, and beautiful Paige Preston, who wants to end her own life. Mandated to therapy with a sexy psychiatrist and slowly falling for the friend-with-benefits next door, she at last begins to break down some of her walls. But is it enough? Ms. Castle's debut novel, Dear Stephanie is a sinfully addictive walk through a world of beauty, affluence, and incidental love, and is a gritty, poetic reminder that often, what we see on the outside does not tell the whole story.
Rainbow Rowell, Carry On (Young Adult/Contemporary/Paranormal Romance): The New York Times Book Review calls Carry On "a powerful, politically minded allegory about sexual, ethnic and class identity – with a heady shot of teenage lust." Rowell is a New York Times bestselling author who can't seem to disappoint, and Carry On is no exception. A ghost story, a love story and a mystery, it has just as much kissing and talking as you'd expect from a Rainbow Rowell story – but far, far more monsters.
Kristin Hannah, The Nightingale (Women's Fiction/Historical/Sisters): Kristin Hannah is already a wildly successful author, but The Nightingale might be her greatest masterpiece yet. A story of two sisters, separated by years and experience, by ideals, passion and circumstance, each embarking on her own dangerous path toward survival, love, and freedom in German-occupied, war-torn France. Named a best book of the year by: Buzzfeed, iTunes, Library Journal, Paste, self.com, The Wall Street Journal, The Week, The Nightingale is a must-read.
SaveSave
This article was originally published on