11 Shows You'll Want To Binge Watch ASAP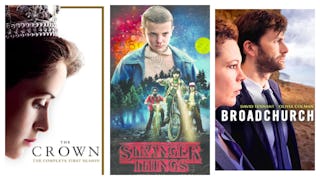 Screen shots, Amazon.com
Seriously, what did we do before streaming services? Whenever I try to explain to my children that I used to have to wait a week at a time to watch episodes of my favorite shows, they look at me with blank stares. And, when I mention words like "premiere week" and "Must-See TV" Friday nights, they act like I'm speaking a different language. Kids have it so easy today when it comes to television shows, dammit.
I love a good "Netflix and chill" night — and I mean actually watch Netflix and actually chill — especially during the long, dark days of winter. And, if you've been looking for a new show to dig into, I have a few suggestions.
Breaking Bad (Netflix)
Let's just get this out of the way, first: there's a reason that Breaking Bad is on the top of every single "best shows to binge" list. Because it's fucking awesome. And what's not to love about a high school chemistry teacher with terminal cancer who turns to methamphetamine production to make sure his family is taken care of when he's gone? It's a no brainer, people.
Ozark (Netflix)
Jason Batemen stars as Marty Byrde, a seemingly upstanding financial advisor who has gotten mixed up in money laundering and drug cartels. Oh, and it's set in Lake of The Ozarks, Missouri. In this dark drama, Marty and his wife, Wendy, attempt to outsmart a Mexican drug lord while trying to keep life normal for their two teenage children. Be warned: you will have to cancel your life when you sit down to watch Ozark because you won't be able to walk away.
Atypical (Netflix)
This new series is making waves for it's realistic portrayal of a teenager living on the autism spectrum. The main character, Sam, decides it's time to enter the dating world and his newfound independence sets his mother, played by Jennifer Jason Leigh, on a journey of her own. Atypical is #1 on my "next to watch" list.
The Crown (Netflix)
If you are like me, you died a little inside when Downton Abbey left PBS a few years ago. For those of us still suffering withdrawal from British accents and Victorian-era fashion porn, I give you The Crown. Claire Foy is dazzling in the first two seasons as a young Queen Elizabeth first ascending the throne after her father passes away suddenly. Gorgeous costumes, thrilling storylines, and a glimpse into royal life? Yes, please. And, total bonus: if you love Broadchurch (see below), Olivia Colman is set to take over the role of Queen Elizabeth in Seasons 3 and 4.
Blackish (Hulu)
Blackish centers around the Johnson family, an upper middle class African-American family. Dre and Bow head a family of four children and, through situational comedy, the show aims to tackle the tough issues of our time: racism, gender inequality, and LGBTQ rights, just to name a few. Not only does the show illustrate the racism the family experiences, but it also depicts the racism African-Americans from a variety of backgrounds face in America. If you only watch one episode, watch "Lemons" from Season 3. The Johnson family's perspective post-election will change your life.
Broadchurch (Netflix)
If you weren't into Downton Abbey, but are a sucker for murder mysteries with British characters, Broadchurch will leave you speechless. Set in the small fishing town of Broadchurch in the U.K, the entire town becomes a suspect when 8-year-old Daniel Latimer turns up dead on the shores of their quiet beach. This show will leave you guessing until the very last minute. And I could listen to David Tennant and his Scottish brogue for infinity.
Living Single (Hulu)
If you missed this hit series from the 90s, I suggest you cancel your weekend and catch up immediately. Queen Latifah (need I say more?) heads up the cast of six friends living in a brownstone in the heart of Brooklyn, New York — and it is the epitome of 90s cutting-edge hip. The entire series just dropped to Hulu so, if you missed it the first time around, you have no excuse for not watching this pop culture staple now. And if you watched it the first time around, you can relive your youth again.
How I Met Your Mother (Amazon)
Admittedly, I was skeptical about this show before I binged HIMYM after the series ended. Nine seasons seemed like an awful lot of television to watch to find out if Ted, the main character, actually divulges who mothered his children. Good news: he does and its worth it. If only to watch Neil Patrick Harris at his comedic best as Barney, a self-absorbed playboy. Rounding out the cast are Ted's best friends, Marshall and Lilly, who are high school sweethearts, and Robin, Ted's on-again-off-again love interest. Challenge accepted!
Stranger Things (Netflix)
If you've been looking for a show that combines supernatural events with 80s pop culture and a cast with the stars of the 80s and 90s, then Stranger Things is gonna be your jam — 100%. Without giving too much away, four pre-teen boys encounter strange happenings in their towns and they set out on an adventure to get to the bottom of the mystery. Winona Rider stars as one of the boys' mom and David Harbour kills it as Police Chief Jim Hopper. Not only is it filled with addictive nostalgia and creative plot lines, but you'll finally understand what everyone means when they talk about "the upside down" and freak out when the lights flicker.
ER (Hulu)
Yes, that's right: NBC's hit show ER just dropped on Hulu and I, frankly, don't even know why you are still reading this sentence. Go watch all 9 seasons immediately. Because George Clooney. And Eric Benet. Duh.
Marvelous Mrs. Maisel (Amazon)
If you are like me, you devoured the series Mad Men not only for the kick ass female characters, but also for the 60s style period clothing. Marvelous Mrs. Maisel delivers on every level when it comes to a period piece with an awesome storyline. Miriam Maisel, played by Rachael Brosnahan, is a Jewish housewife in the 1950s who, after her husband divulges an extramarital affair, sets off to build a career in stand-up comedy. I have a feeling "Midge" will be with us long after the first season.
And if you have some extra time on your hands, here are a few honorable mentions:
Game of Thrones (HBO): Watch GOT if for no other reason than to understand what the fuck people are posting about on FB when the show is on.
Cheers (Amazon): Sing it with me, "Where everybody knows your naaaaame…." Cheers is always on tap for a good binge watching sesh.
The Office (Netflix): Because duh.
Orange Is The New Black (Netflix): Amazing writing, riveting storylines and an overabundance of steamy shower scenes make this series a must-watch.
Now, if you'll excuse me, Mrs. Maisel is calling my name. Sorry, kids, but dinner and laundry is cancelled until Mom is finished watching. Sorry, not sorry.
This article was originally published on