12 Books By Badass Women Authors To Light A Fire In Your Soul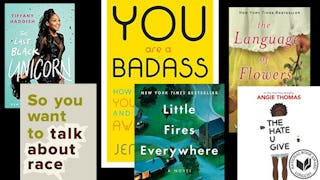 Amazon.com
Even if you weren't specifically looking for inspiring reading that just so happens to be written by badass women, you are absolutely going to want to peruse this list. With an eclectic mix of genres ranging from science fiction to suburban suspense to spirituality to evolutionary anthropology, these books will enlighten you, inspire you, and generally empower you to make 2018 your bitch.
Currently the 13th most read book on Amazon. And can you really go wrong with a book that has a chapter titled "Fear is for Suckers"?
After 45 weeks on the New York Times bestseller list (only recently bumped from number 1), The Hate U Give has become the fictional representation of the Black Lives Matter movement. Everyone needs to read this book. Full review here.
Publishers Weekly says Help, Thanks, Wow is a "prayer manual for people who wouldn't be caught dead reading prayer manuals." A short guide to opening yourself to the power of prayer (but not necessarily prayer to any specific god) that you will consult again and again.
Did you see this woman's interview with Jimmy Kimmel about her swamp tour with Will Smith and Jada Pinket Smith? If not, Google that shit. You won't be able to stop yourself from buying her book. This woman is comedy GOLD.
5. Kindred by Octavia Butler
Historical sci-fi African American fiction, Kindred is about a modern black woman living in California who gets snatched from her home and transported back to the antebellum South. Brilliant concept, rave reviews.
After a childhood spent in the foster-care system, newly emancipated Victoria is unable to get close to anybody, and her only connection to the world is through flowers and their meanings. Based on the reviews, The Language of Flowers will tug on your heartstrings, big-time. And by the way, it's only 1.99 on Amazon Kindle at the moment (but we have no idea for how much longer).
7. Hunger by Roxane Gay
Called "intellectually rigorous and deeply moving" by The New York Times Book Review, Roxane Gay's memoir about learning to feed your hunger while taking care of yourself articulates the inner struggles of so many of us.
A runaway bestseller with almost 36,000 Amazon reviews, and soon to be a major motion picture, The Nightingale is a novel of love and strength in the face of war. Don't be the last person on the planet to read this one.
A brand-new release, word on the street is this one's going to go big. From Forbes: "While so many people want to become 'thought leaders,' 'bloggers,' or even just 'influential,' Oluo is eons past that."
A classic that if you haven't read, you must, and if you have read it, you should consider reading it again. Walker's unique, powerful first-person prose paints a picture of Celie, a woman who has suffered unimaginable hardship and falls in love with her abusive husband's beautiful mistress.
Named a Best Book of the Year by more publications than we can list, and number 10 on Amazon's most read list, Little Fires Everywhere is a "riveting novel that traces the intertwined fates of the picture-perfect Richardson family and the enigmatic mother and daughter who upend their lives."
A fascinating (but accessible) analysis of the primatologically unique length of human childhood. This book, whose scope stretches far beyond what you might guess by just looking at its cover, will scratch your intellectual itch. From Salon: "[Hrdy] argues that human cooperation is rooted not in war making, as sociobiologists have believed, but in baby making and baby-sitting."
Editors may receive samples and/or a share from purchases made via links on this page. All opinions are our own.
SaveSave
SaveSaveSaveSaveSaveSave
SaveSaveSaveSaveSaveSaveSaveSaveSaveSaveSaveSave
SaveSaveSaveSaveSaveSaveSaveSaveSaveSave
SaveSave
SaveSave
This article was originally published on