12 Picture Books To Read With Your Kids This Summer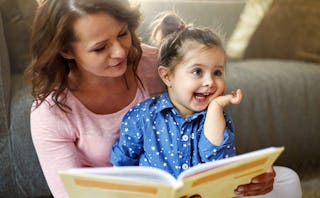 Once the temperature heats up, social media becomes a hot spot for summer reading lists. I've seen everything from collections of simple beach reads to heavy page-turners that you won't be able to put down for 96 hours straight.
What I have yet to see, unfortunately, is a list of fresh and interesting picture books for young children. Whether to educate, inspire or just bring about a good giggle, here are some books I highly recommend you try out with your children this summer.
1. Iggy Peck, Architect (written by Andrea Beaty and illustrated by David Roberts)
Iggy Peck is a creative young boy whose imagination gets stifled by a teacher limiting his ability to build in class. She quickly learns not to prohibit her student's passion for building.
2. The Dark (written by Lemony Snicket and illustrated by Jon Klassen)
To describe this book simply as a journey through overcoming one's fear of the dark would unfairly overlook how the clever plot can be used to address the daunting power of fear on a much grander scale.
3. Have You Filled a Bucket Today? (written by Carol McCloud and illustrated by David Messing)
This beautifully simple concept teaches perfectly how the gift of kindness benefits the giver just as much as the receiver.
4. The Adventures of Beekle: The Unimaginary Friend (by Dan Santat)
This story explores the magic of finding an imaginary friend through a surprisingly stunning role-reversal in which the imaginary friend discovers his new home with a real child.
5. The Invisible String (written by Patrice Karst and illustrated by Geoff Stevenson)
This book is the closest I've come to illustrating for my two daughters just how much my husband and I love them, every moment of every day.
6. Kate's First Mate (written by Conor Dubin and illustrated by Brandon Alterman)
This "antidote to the prince charming story" is first in a series of books that empower a young woman in a way no fairy tale ever could.
7. Once Upon an Alphabet: Short Stories for All The Letters (by Oliver Jeffers)
Each letter of the alphabet has its own chance to shine when featured in this collection of super-short yet incredibly innovative and brilliantly illustrated quirky stories.
8. It's Not What You've Got! (written by Dr. Wayne W. Dyer and illustrated by Stacey Heller Budnick)
In a world full of excess, this book perfectly captures for children lessons in both money and abundance, teaching how both can be an invaluable fortune.
9. Giraffes Can't Dance (written by Giles Andreae and illustrated by Guy Parker-Rees)
When Gerald's dancing is made fun of by all his friends at the Jungle Dance, the embarrassed giraffe flees the festivities. Thankfully, he doesn't make it far before finding encouragement from an unlikely creature and expressing himself through dance once more.
10. The Juice Box Bully (written by Bob Sornson and Maria Dismondy and illustrated by Kim Shaw)
Sadly, whether they know it or not, almost every child has encountered a bully in action. This book introduces a simple anti-bullying strategy that is a wonderful resource for teachers, parents and children alike.
11. The Circus Ship (by Chris Van Dusen)
When the lives of many on-ship animals are risked during an enormous storm, a town gifted with the true understanding of friendship and community comes to the rescue.
12. Going Places (by Peter and Paul Reynolds)
Just because everyone in the classroom is given the same assignment doesn't mean each task must be completed the same way. This unique journey explores how the use of imagination opens up our world to freedom (and beauty) beyond measure.
This article was originally published on