12 Podcasts That Have Helped My Relationship With My Teen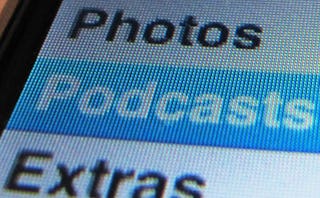 Listening to a podcast on a long drive means we can ignore each other completely but in a copacetic kind of way—or at least we will have one neutral topic to discuss. I admit that as a family, we do lean a little toward the geeky, as do many podcasts (at least the family-friendly ones).
Here are some of the podcasts that I recommend you listen to with your teen (or by yourself, or your hubby or your mother, or whomever you want to be alone with).
Serial: If you haven't listened to this, then what are you waiting for? This examination of high school dynamics, the legal system, memory and truth is a must-listen. It's appropriate for older teens as long as you don't mind some discussion of sex and drugs. The recent news that the story isn't over yet may be an excuse to listen to it again. You can also find supporting websites and podcasts about the episodes if you want to argue further on whether or not Adnan is guilty.
This American Life: The first, maybe still the best, podcast. These hour-long shows take a theme and explore it through first-person stories.
Ask Me Another: This NPR game show is a family favorite. It's a mixture of word games, music and current events. You'll be shouting the answers at the windshield. (I told you we were geeky).
Invisibillia: Another NPR show that examines the invisible forces that shape human behavior, which sounds weird. But the first show about a blind man who uses echolocation to bicycle around a city was totally riveting.
Radiolab: A science show that does a deep dive into one topic in a surprising way—their episode on colors was outstanding. The episode about how a man walked through open latrines in Africa so he could get hook worm and cure his allergies was disgusting—but in a good way.
Welcome to Night Vale: A radio show from the mysterious town of Night Vale, which is sort of like Twin Peaks meets Gravity Falls. Funny, creepy and full of inside jokes.
The Vinyl Cafe: Host Stuart Maclean spins stories about the fictional and hapless Dave and Morley that will have you laughing, but the tender moments will also bring the tears. This one will appeal to younger kids too, and bonus: It's a Canadian classic.
No Such Thing as a Fish: Four Brits who work on Stephen Fry's TV show QI (aka Quite Interesting) discuss the most interesting things they have learned that day. It's a lot of trivia in a small amount of time. But it fuels a teen's need to be constantly bullshitting their friends and teachers.
Hardcore History: My son described this as having a history teacher who you actually want to listen to. Dan will force you to see the past from a new perspective, even if the idea of history makes you want to take a car nap.
Stuff to Blow Your Mind: An offshoot of the popular How Stuff Works podcast, this is another science–ish show that tries to answer the questions you always wondered about, like: Why do you feel so good after a short nap and yet so terrible after a long one?
The Sporkful and Spilled Milk: The Sporkful is a show for eaters, and Dan Harmon tackles important questions, like what defines a pizza and how to eat spaghetti without splattering. Spilled Milk is for cooks and eaters. Molly Wizenberg and Matthew Amster-Burton's lighthearted take on cooking and snacking is fun to listen to, even if you're more of a restaurant kind of person.
If you don't even know how to listen to a podcast, ask your kid. If that doesn't work, you can check out this video from Ira Glass of This American Life. It's easy, trust me.
This article was originally published on