12 Romantic Holiday Movies We Are Here For This Season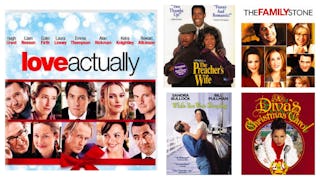 Screenshots, Amazon.com
Holiday rom coms make me downright giddy. The holiday lights! The passionate kisses as fake snow gently falls! Reese Witherspoon!
Decking the halls and fa-la-la-laing all over town is fucking stressful, and sometimes the perfect remedy to holiday stress is curling up with the best holiday movies ever.
Lucky for you, I've rounded up a list of twelve movies that are sure to beat the Bah Humbug right out of you.
When Harry Met Sally
While When Harry Met Sally isn't a traditional Christmas movie per se, the movie revolves around Harry and Sally's friendship over a course of 12 years. In one scene, Harry and Sally agree on New Year's Eve to be each other's plus one the following year if they don't have dates. And, of course, that leads to the most iconic lines of the movie, "When you realize you want to spend the rest of your life with somebody, you want the rest of your life to start as soon as possible." Swoon.
Holiday Cheese Factor: 4. They are New Yorkers, after all. New Yorkers don't do cheesy.
The Family Stone
This is my favorite holiday movie of all time and, sadly, it's a lesser known flick. Diane Keaton plays the matriarch of the Stone family and the story takes place over the weekend when one of her sons brings his uptight new fiancé, played by Sarah Jessica Parker, home for the holidays. Throw in Rachel McAdams, Craig T. Nelson and an unexpected diagnosis, and you are gonna need an entire box of tissues.
Holiday Cheese Factor: 6
Best Man Holiday
Two words: Taye. Diggs. Two more words: Yes. Please. No, but seriously, the dance scene is sexy AF.
Holiday Cheese Factor: 0. There's nothing cheesy about Taye Diggs. Nothing.
Love Actually
Don't be a hater: this movie is for hopeless romantics. And, I'm sorry, but if you can get through the scene where Aurelia and Jaime communicate their love for each other in different languages, then your heart is two sizes too small.
Holiday Cheese Factor: 9. Even I can admit Love Actually is cheesy AF.
The Preacher's Wife
Denzel Washington and Whitney Houston in the same movie? Sign. Me. Up. And pass me the tissues when Angel Whitney belts out her gone too soon voice in glorious Christmas wonder.
Holiday Cheese Factor: 2. Please come home for Christmas, Whitney.
The Holiday
Two women fed up with the bad men in their lives do a spontaneous, last-minute house swap for the holidays. One is a wealthy movie trailer producer in L.A. and the other lives in a quaint, tiny cottage in England. They both end up meeting a man—totally not looking for that, of course—and it's cute and sweet, and also, Jude Law.
Holiday Cheese Factor: 7. Because Jude Law.
Anything On the Hallmark Channel at Any Given Time
Go ahead. Turn on the Hallmark Channel and I promise, you'll find the perfect cheesy holiday movie.
Holiday Cheese Factor: 10. Hallmark cares enough to give us the very best at the holidays.
Bridget Jones' Diary
Even though American Renee Zellweger caught flack from the Brits for snagging the role of Bridget Jones, she is perfection in this holiday flick about a single 30-living in London. And, come on: Hugh Grant and Collin Firth in the same movie? I'll take that double feature action anytime.
Holiday Cheese Factor: 5. The Brits have their cheesy holiday film protocols, you know.
Four Christmases
It's Reese Witherspoon. Enough said.
Holiday Cheese Factor: 1. We love Draper James and we would never call Reese cheesy. Ever. But she's a tiny bit cheesy in this movie.
While You Were Sleeping
Sandra Bullock is cute as a button in this 90s holiday movie classic. And so is Bill Pullman. And Peter Gallagher. You won't fall asleep while watching this one, I promise.
Holiday Cheese Factor: 9. Train rescues are pretty damn romantic, amiright?
Serendipity
A chance meeting! Sharing dessert at a restaurant! New York at Christmastime! Seredipity has it all: fate, romance, and gently falling fake snow. And John Cusack. So, this one's pretty much a no brainer.
Holiday Cheese Factor: 8. Even New Yorkers admit New York is cheesy at Christmas.
A Diva's Christmas Carol
Move over George C. Scott: Vanessa Williams owns Scrooge in this wonderfully awful but yet so perfectly cheesy adaptation of A Christmas Story. And, bonus points: Kathy Griffin is one of the ghosts.
Holiday Cheese Factor: 12. Because if you are gonna take on Dickens, it's go big or go home time.
So, go ahead, and kick back tonight. The wrapping can wait. Taye Diggs can't.
This article was originally published on