U.S. Officials Refuse To Release 12-Year-Old Bahamian Girl Stuck At Shelter After Dorian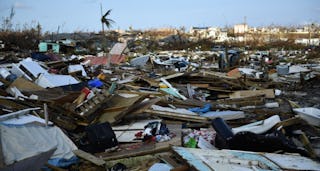 BRENDAN SMIALOWSKI/Getty Images
One Bahamian family has lost everything due to Hurricane Dorian — and now, they're separated from their daughter
A Bahamian family is feeling the aftermath of Hurricane Dorian in a major way. After attempting to flee the hurricane-ravaged island of Abaco, a 12-year-old Bahamian girl has ended up in a Miami shelter, separated from her family. Despite attempts to retrieve her, officials refuse to release her — even to her mother.
According to the Miami Herald, Kaytora Paul was forced to separate from her parents over the weekend. The hurricane left the family of six homeless and they were sleeping in their care. After rescuers came for them, Katty Paul, Kaytor's mother, did what she had to do. "There wasn't enough space. At that point you have to make a decision," she explained to the outlet. "I sent my 12-year-old with her godmother, while I stayed with our two youngest and my husband stayed with our adult son."
The two flew from Nassau to West Palm Beach on Sunday night. When they arrived in America they were immediately transferred by U.S. Customs and Border Protection (CBP) to Miami International Airport. It was there that CBP separated them, claiming that because her godmother wasn't her biological parent, she couldn't sponsor her. When the girl's biological aunt, who arrived to pick them up from the airport, attempted to get custody of the child, officials also refused. Paul was then placed in His House Children's Home, a religious nonprofit in Miami that also serves as a U.S. government facility for unaccompanied migrant kids.
"I thought losing my house was devastating. Or having to relocate to a different island or country was devastating," Paul continued. "But when I found out that they got her, my baby, I mean, there are no words. It was at that moment that I really lost everything."
Paul arrived in Miami on Tuesday, but quickly discovered she couldn't just walk in and pick her daughter up. She told the newspaper that in order to get custody she has to apply to be her daughter's sponsor with HHS. To do this, she has to prove that she is her mother by providing documents like a birth certificate, government ID, and proof of address. The process can take weeks or even months, which is seriously problematic considering that US officials informed her that she's only allowed to stay in the country until September 26 because of her Bahamian citizenship.
"I don't even want to think about what that will look like — if I have to leave here before being able to claim my own daughter," Paul continued. "You should hear her voice. She's out of it. Crying, depressed. She wants her family but we can't do anything."
In a statement to the Miami Herald, CBP confirmed the story saying the girl arrived "with an adult that had no identifiable familial relationship."
"CBP made multiple attempts to contact family members however was unsuccessful—resulting in the need to transfer the child to HHS custody. CBP exercises due diligence to guard against child exploitation and human smuggling during uncertainties created by natural disasters and emergencies," they said in an email. "When encountering minors, there are legal requirements that CBP must follow that are in place to ensure the safety of the child."
While the death toll in the Bahamas due to Hurricane Dorian is officially 50, government officials maintain that 2500 people are still registered as missing. Additionally, several animals have lost their lives, including 250 shelter pets.