12-Year-Old Girl Arrested After Pinching Boy's Butt At School
by Ashley Austrew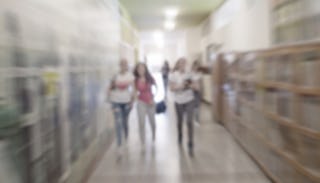 This tween is facing battery charges for an inappropriate game at school
Kids are bound to make mistakes, but one Florida middle schooler is facing some pretty serious consequences for her participation in an "innocent" game at school. Breana Evans was slapped with a misdemeanor battery charge after pinching a boy's butt at Milwee Middle School in Longwood, Florida.
Evans tells Fox2 the butt-pinching was part of a game some students play, and she thought it was just a joke. The student who got pinched didn't see it that way and reported Evans to the school resource deputy. Breana was initially suspended, as the boy didn't wish to press charges, but last week his mom made a call to authorities and told them she wants to have Evans prosecuted for battery.
Evans was charged with misdemeanor battery, read her Miranda rights, put into a police vehicle, and booked into juvenile detention. If she completes a behavioral program, does community service, and passes both her classes and a drug test, the charges will be dismissed and wiped from her record. Still, the tween says she regrets the incident and thinks it's a "stupid charge that shouldn't have to happen."
Breana's dad, Ray Evans, says he's stunned by the tough consequences his daughter is facing and thinks it's a major overreaction by the boy's mother. In an interview with Fox2, he said, "Lord, Lord, Lordy, what has this world come to? Kids can't even be a kid anymore."
Obviously booking a kid into juvenile detention over a pinch sounds utterly ridiculous, but it does illustrate the importance of teaching kids about consent, boundaries, and respect. This mom was within her rights to press charges, even if her son didn't want to, and thats a real, scary consequence kids have to understand. Breana may not have seen the harsh consequences coming, but at 12, she's old enough to understand that it's not okay to run around grabbing people's butts. It's just a shame the mom in question couldn't just let suspension be punishment enough.
Breana is likely a good kid who participated in something because all the kids were doing it and ended up being made into an example. It was a silly mistake, and it's unfortunate that she's in such hot water. Hopefully this incident will send a clear message to other students playing this game that people's bodies aren't theirs to violate, and even something that's meant to be a joke can end up having unexpectedly serious consequences.
You can check out Breana's side of the story here:
This article was originally published on