Trump Supporters Kick 12-Year-Old's Wheelchair After Trump Orders Him Out Of His Rally
by Christine Organ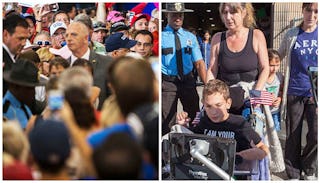 "The family was kicked by Trump supporters and had to shield JJ's wheelchair as Trump supporters gathered to push JJ's wheelchair out of their space."
It takes a special kind of asshole to harass a child, but assholery seems to be the essence of the Trump campaign and his supporters. According to the Huffington Post, last Saturday 12-year-old J.J. Holmes, who has cerebral palsy, begged his mom to drive him to a Trump rally in Tampa, Florida, to protest Trump's treatment of people with disabilities. His mom, Alison, drove him to the rally, where they held up a Hillary Clinton placard and chanted their support for her.
Trump, being the lightening rod of hate that he is, ordered J.J. and his mom out of the rally and his supporters chanted "U-S-A" while pushing him away. As if that weren't deplorable enough, a witness covering the rally wrote on Facebook that J.J.'s mom said "the family was kicked by Trump supporters and had to shield JJ's wheelchair as Trump supporters gathered to push JJ's wheelchair out of their space. Alison was called a child abuser and a murderer."
Shortly thereafter, the story of Trump's disgusting behavior – which feeds the anger and abhorrent conduct of some of his supporters – made its way to Valentina Pereda, Hillary Clinton's press secretary in Florida. In a Facebook post written by Pereda on Sunday night, a reporter contacted her in tears "after witnessing a 12-year old living with an extreme case of cerebral palsy get kicked out of a Donald Trump rally."
"While I'm listening to this story, I freeze: first in disbelief and, next, feeling utterly helpless," she wrote. "What the hell could I do to make this child even slightly forget that experience? I'm a nobody!"
With little hope of VIP treatment, much less a chance to meet President Obama, Pereda told the reporter she would escort J.J. and his mom to the President's rally in Kissimmee, Florida the next day. But by working with her colleagues at the event, she was able to do so much more than that. Swimming through a sea of people, she and her colleagues wheeled J.J. out of the crowd to meet a White House press secretary, who escorted J.J. to the other side of the barricades, where he eventually meet and shook hands with the President.
"The rest is indescribable," Pereda wrote. "J.J. jumps out of his seat and erupts into cheer… his smile almost bursting out of his face. His body overcome by light, when just the day before it almost succumbed to hate."
Fortunately, there are still good people in the world who fight with kindness and generosity of spirit. Less than 24 hours after J.J. was harassed by Trump and his supporters, he was shaking hands with President Obama thanks to the work of a Hillary Clinton aide and her colleagues.
As Pereda wrote, "Always have the courage to do what feels right. The universe will always conspire."
In other words, love will always trump hate.
[free_ebook]