13 Children's Books You Might Not Have, But Need ASAP
by Amber Leventry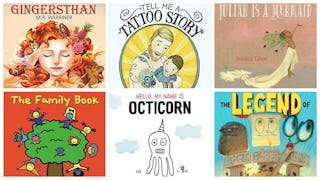 The best part of my day is reading to my kids before bed. Sure, after a rough or long day with them, the idea of sleeping children is very appealing. But, no matter what has occurred during the day—good, bad, or silly—I relish that time to connect over a good book. And if it has a little gem of a lesson in it, all the better.
I use books to connect with my kids, but I also use them as guides. Just like adults, kids experience big events, big emotions, and big changes. It's best to keep things simple for them, to help them understand the world around them without overwhelming their senses. It's best for us too. Books are a way to help us make sense of a confusing world. And if a book can entertain and enlighten, then it is one worth having on your bookshelf.
Here are 13 picture books you might not have, but you need to add to your regular line-up ASAP.
Octi's dad is a unicorn. His mom is an octopus. Octi is an octicorn. He is super cute, but super unique. Octi is never quite sure where he fits in. On land? At sea? But he really wants to fit in. He really wants to be liked and invited to parties. But really, he wants cupcakes and friends — just like everyone else.
Goodness, Little Tree will make you ugly cry if you are not careful. At the heart of the story is a little tree, who just can't seem to let go of his leaves. But he needs to change and let go so he can grow — just like those kids of ours.
If you don't know Todd Parr and his amazingly colorful books, I may be judging you a little. But only a little because now I get to introduce his awesomeness to you. The Family Book is a great starter if you don't have any Parr books in your house. All of Todd Parr's books are inclusive, silly, and meaningful. In this book, Parr illustrates and describes all kinds of family, including those with two moms, two dads, single parents, and adoptive parents. He not only highlights our differences, but celebrates what makes us similar too.
Told with gorgeous illustrations and a soothing rhyming cadence, Gingersthan introduces us to Rogan. A fantastical adventure about friendship and the spicy side of ginger life unfolds when Scarlet Redmayne steps out of the red coach to invite Rogan aboard. Warriner has three other beloved books that use whimsy and fantasy to stretch our imaginations.
This book won the National Council of Teachers of English's Charlotte Huck Honor Book and
the Cooperative Children's Book Center's Choice Book awards, among others. It's a story about kindness and friendship. It's about a boy and his tiny pet elephant, and a girl with a pet skunk, who are left out of the Pet Club meeting so they start their own club. YAY for inclusion and acceptance!
You may recognize the author's name here. Daywalt is the guy behind The Day the Crayons Quit. He wins big with The Legend of Rock Paper Scissors. It is seriously one of my favorite things to read to my kids or a full classroom. It is adventurous and boisterous. It is ridiculous, yet sweet. And it is so funny. There are jokes only adults will fully appreciate and there is at least one well-placed use of the word "butt." It's a win-win for all.
7. Bloom by Doreen Cronin
Bloom is a magical mud fairy. She is messy and dirty. But she is practical and strong. This book is about girls shattering glass ceilings and society's stereotypes. Bloom teaches us that there is no such thing as an ordinary girl. It empowers girls to be extraordinary and reminds boys that girls can and will get shit done.
This book is a #1 New York Times Bestseller and has won all kinds of awards, including the 2016 Newbery Medal and a 2016 Caldecott Honor Book. It's obvious why. This lyrical book follows CJ and his grandma from church to a soup kitchen. The multicultural and multigenerational story of a boy on a city bus with his nana is at the core of this important book. Last Stop on Market Street also brings to life poverty, homelessness, and urban life in a way that kids can understand and appreciate.
This is such a sweet and beautiful story for the modern parent. It's a love story between father and son too. As the little boy asks his dad about the meaning behind each of his tattoos, we learn about family history, life's important milestones, and the sacrifices worth making. The little boy learns just how important he is by asking to see his dad's tattoos.
Julián loves mermaids. And when three women wearing mermaid costumes fill a train car with him and his abuela, he is enamored. When Julián gets home he tries to create his own mermaid costume, one that matches the way he sees himself. Kirkus Reviews states: "Though it could easily feel preachy, this charmingly subversive tale instead offers a simple yet powerful story of the importance of being seen and affirmed."
Jacob is not happy with his new nanny. He rather spend his days with his mother, so he makes it his job to try to get the nanny to quit. Despite his best efforts, the nanny won't go. Nor does he realize his mom and the nanny are working together to teach him a valuable lesson. Get ready for a book of silly twists and turns.
Yes, that Bunmi. The hilarious mastermind behind The Honest Toddler has written a book with a toddler problem at its core. A little girl does not want to sleep in her little bed. She comes up with a plan to sleep in the big bed with Mommy. But not to worry, she has arranged for Daddy to sleep on a camping cot. Bunmi never disappoints.
13. The Baby Unicorn Manifesto by Dain Heer, Katarina Wallentin and Nathalie Beauvois
This sweet book is a perfect gift for new parents to celebrate the birth of their baby. It's has magic and unicorns and celebrates the value and worth in every person. Did we mention it has unicorns?
Whether you're looking for a gift for a child's birthday or a mom-to-be's baby shower, or just want to expand the scope of your bookshelf, there's something here for everyone.
Editors may receive samples and/or a share from purchases made via links on this page.
This article was originally published on