15 Women And Femmes Who Are Inspiring AF On Instagram
by A. Rochaun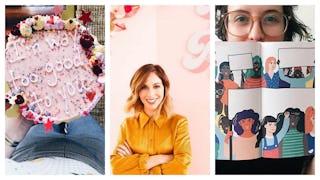 joythebaker/jaclynrjohnson/camixvx
We all have hopes and dreams. Still, it's hard to keep the faith in yourself and your aspirations when times are hard. Sometimes, you just need a little reminder that you're a badass. The best reminder that things will improve is looking to the stories of individuals that have achieved their dreams.
The following list includes 13 inspiring AF women and femmes whose Instagrams you need to follow ASAP. Now get out there, and get inspired!
Raynell 'Supa' Steward is a Jill of all trades with skills ranging from being a cosmetics line founder to music manager. Not long ago, she was doing customer service as a housekeeper and waitress — now she's a millionaire because she believed in herself. You might like her because her latest venture, the "Crayon Case" is gaining widespread popularity among amateur make-up artists. But you'll love her because she's true to herself and refuses to conform.
Lyn Slater or "Accidental Icon" started a fashion blog in her mid-60s after she noticed there weren't many mediums for folks with typical lives to go to for fashion advice. So the Fordham University instructor got to work and "accidentally" developed her own following. And for good reason, her aesthetic is AMAZING! Sometimes fame takes a little longer to get to you. But that doesn't make the moment any less sweet.
Sienna is a self-identified witch and healer who does all your favorite "witchy" readings/interpretations — she also makes a badass Custom Auragonyte™ Pyramids. Her page is filled with chronicles of her energy work. It's a great place to learn about a wide-range of spiritual topics although you might get distracted by how gorgeous she is.
Marie Forleo is career goals. She's done so well as a motivational speaker and entrepreneur that even Oprah took the time to acknowledge her and calls her the "thought leader for next generation." She describes herself as "a multi-passionate entrepreneur," and thinks we should all live life in pursuit of our dreams.
https://www.instagram.com/p/BtG2xULn65g/?utm_source=ig_web_copy_link
Virgie Tovar is an author and activist on a mission to end fat discrimination and help others improve their body image. She's started the campaign #LoseHateNotWeight, writes for Forbes, and has a weekly column for Ravishly. Ted Talks, books, and features in The New York Times all boost her efforts to increase body positivity.
https://www.instagram.com/p/BtizdagFOfj/?utm_source=ig_web_copy_link
Tara Whiteman is a creative whose work focuses on travel related material that focuses on food, places, and people. Her Instagram has to be one of the most eye catching (and color coordinated) Instagram's ever. The images she uploads make it impossible not to see the astounding beauty of the world.
Everyone knows Roxanne Gay is a BOSS. In between reading her cultural commentary and books, you can scroll through her IG timeline. This New York Times Bestselling author has a lot to say. Maybe if we listen, we can learn something.
Shay Neary lets us know she's not afraid to slay — despite what others think about her gender identity or size. Her page has comforting messages on body positivity, sexuality, and overall self-acceptance. I love it, you will too.
Jaclyn Johnson is the creator of "Create and Cultivate" — an online platform that encourages career growth for women. A lot of big names — like Chrissy Teigen, Kim Kardashian, and my personal favorite Issa Rae — are Create & Cultivate alums. Her efforts landed her on the Forbes 30 under 30 list. Her podcast "Work Party" is the Top Rated Weekly Biz Podcast.
Joy Cho is the founder and creative director of OhJoy! Her page is great for folks who love crafts or eat sleep and breathe décor. Joy is pretty big time too — she's done several awe-inspiring projects including collaborations with Tula, Band-Aid, Petco, and even Target!
Body positivity is important, still, some women choose to make lifestyle changes that promote weight loss. Jasmine Parent is an awesome Canadian chick who has lost more than 120 lbs. in 10 months through diet changes and consistent fitness — with her fiancé as her fitness partner (he's lost a sh*t ton of weight also). Since then, she's consistently motivated people all over the world by being #fitness and #relationship goals.
Lea T is a transwoman and supermodel from Brazil whose looks would easily take your breath away — at least, Givenchy and Vogue France believe so. Her page is filled with indigenous artwork, portraits and even a good bit of political messaging.
https://www.instagram.com/p/Bj8ANNoFxwE/?utm_source=ig_web_copy_link
You know those awesome couples pictures where you see the couple holding hands in a variety of outfits at countless breathtaking locations? Well, it's called the #followmeto movement and it was founded by Nataly Osmann and her boo thang. The images they take can inspire you to go on awesome travels with your partner, your friends, or even yourself.
https://www.instagram.com/p/Br_fJxAABxa/?utm_source=ig_web_copy_link
Camila Rosa is a Brazilian artist and designer. Rosa's work can be seen in a wide range of mediums, including as street art and is included in exhibitions around the world. She rejects mainstream beauty standards and is deeply committed to global educational equality for women and girls.
Joy Wilson, is a baker, author and blogger affectionately known as "Joy the Baker." A quick look at her page will have your mouth watering as you say "salads, pastries, and soups. OH My!" Guess what, she has written a cookbook that allows us to give her delectable treats a try in our own homes.
This article was originally published on