13 More Amazing TV Shows From The '80s Only True Gen-Xers Remember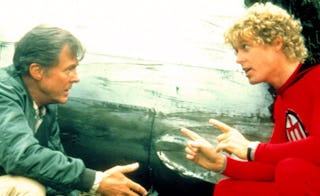 Last week we took a wander down Memory Lane and revisited some of our favorite obscure TV gems from the 1980s. It turns out our audience remembered every single show, from Jennifer Slept Here to the clear crowd favorite, Square Pegs—and reminded us of a ton of shows we forgot.
The original compilation comprised shows that only ran one season, two max. We've relaxed the criteria for our second installment, but kept our main requirements for inclusion: 1) It has to be a program that ran in the '80s; 2) that causes a contemporary, when reminded of the show, to scream "OH MY GOD I LOVED THAT!" or "OH MY GOD THAT SHOW WAS THE WORST!" or to just to burst into the show's theme song; and 3) it has to be a show that is not immediately mentioned whenever a group of Gen-Xers recall TV from our childhoods. (We love Fantasy Island and Who's the Boss? too, but they're just too mainstream for this antiques roadshow.)
1. Madame's Place (1982–83)
Oh God, how thrilled I was by Wayland Flowers and his salty aging actress puppet Madame! I knew I wasn't getting 95 percent of Madame's dirty jokes, but I didn't care! A puppet in prime time! Who hosted her own talk show! I loved teeny tiny Corey Feldman as Madame's neighbor, and had absolutely no clue that Wayland and Madame had been massive gay icons since the '60s. "A crazy old lady puppet!" was all I cared about at the tender age of 8.
2. It's a Living (1980–82)
Before her star turn as a ghost in Jennifer Slept Here, Ann Jillian was already committing to that platinum curled-under shag as part of the hilarious crew of waitresses at the fancy Above the Top restaurant on the top floor of the Bonaventure Hotel. The ladies endured the joking of a sleazy pianist and were presided over by another hair marvel, Marian Mercer as Nancy Beebe, Above the Top's hostess, who was so glamorous you could hardly stand it.
3. She's the Sheriff (1987–89)
Suzanne Somers in her first post-Three's Company role as a sheriff of a Nevada town? Why not, you ask! Well, the show was voted one of TV Guide's 50 Worst Shows, but I think we can all agree that's a little harsh. Sure, it was improbable that a widowed mom would be given her husband's sheriff job, but as a tween, I found the prospect of sweet Crissy Snow as a law enforcement agent genius. (I think Three's Company itself was a worse show.)
4. The Edison Twins (1982–86)
It wasn't Double Trouble, but it was a show about twins (not real twins, alas) who solved mysteries using science. The show was Canadian and a tiny bit too educational for me, but I thought the male twin looked a lot like Christopher Atkins and so, due to some incomprehensible kid logic, I kept watching.
5. The Greatest American Hero (1981–83)
Sure, you knew the theme song (we sang it in music class in third grade), but did you ever actually watch the show? Few people did. William Katt played a schoolteacher who's gifted by aliens with a suit and cape that give him superpowers, but he loses the instruction manual, so these powers pop up whenever and take him by surprise. I love that someone thought this was a good idea for a show, because it so totally is, but it's so bananas. It was where I first learned about ESP and telekinesis, which would come in handy when I saw Escape to Witch Mountain a year later.
6. My Secret Identity (1988–1991)
Starring a Jerry O'Connell who was closer to Vern from Stand By Me than the heartthrob he would later become, this Canadian series was also about superpowers—this time they're possessed by the teenage Andrew Clements, who gets struck by a photon beam and henceforth is able to fly and levitate like his favorite comic book heroes. The only one who knows Andrew's superhuman is his friend, the scientist Dr. Jeffcoate. This always felt like a boys' show to me, and I only watched it with half-interest, truth be told.
7. Webster (1983–89)
The successor to Diff'rent Strokes, once again featuring a tiny African-American boy adopted by a white family. This time it was the adorable Emmanuel Lewis who was adopted by the Papadapolises (Alex Karras and Susan Clark, who were married in real life!). I always found it bizarre that Webster called his adoptive mother "Ma'am."
8. Love, Sidney (1981–1983)
I've read that Love, Sidney was the first show to feature a gay character on TV. Sidney, played by Tony Randall, is sort of a BFF and surrogate dad to a single mom, played by Swoosie Kurtz, and her adorable little daughter. The theme was sung by the three stars—give it a listen. I over-identified with the daughter, played by Kaleena Kiff, and always sang her part with the most gusto.
9. Valerie (1986–1991)
Jason Bateman, back in action after It's Your Move! This show had four names and two stars—it started as a family comedy called Valerie and starred Valerie Harper as a mother of three boys. In the third season, they killed off Valerie, and Sandy Duncan (Peter Pan! Wheat Thins!) filled in as the matriarch—and the show was sometimes called Valerie's Family, sometimes The Hogans and sometimes The Hogan Family. I somehow managed to track it down in every iteration.
10. Archie Bunker's Place (1979–83)
I was too young to get the incisive social satire of All in the Family and found all the shouting panic-inducing, but I loved Archie Bunker's Place, mostly because of the addition of Stephanie, the 10-year-old girl Archie takes in, played by Danielle Brisebois, a character I could identify with. In this series, Archie owns a bar/restaurant in Queens and hangs out there with a bunch of pals. I still didn't understand the politics, but I watched nonetheless. Why did we just watch anything as kids? We were so undiscerning!
11. Down to Earth (1984–87)
This show had all the trappings of a typical '80s success: a main character with a superpower or secret (in this case, Ethel is a maid who died in 1925, and after waiting 60 years to earn her wings, comes back to earth to work for and help a family); a widow and his kids; and a young boy who is the only one in on her secret. This is also one in a long line of TV shows featuring wise and kindhearted household help (see: Mr. Belvedere, Benson). And let us not forget that Down to Earth starred a teenage Kyle Richards, future Real Housewife of Beverly Hills.
12. Benson (1979–86)
A spinoff of Soap, Benson starred Robert Guillaume as the butler for a governor and his family. He's always far smarter than the real politicians and gets promoted over the years to eventually run for governor himself. I watched this show mostly for Missy Gold—my childhood nickname was Missy and I found her captivating. I think I was happy to watch any show that had a girl roughly my age.
13. Slim Goodbody: The Inside Story (1980)
Oh God, this guy was creepy. He wore a skin-tight flesh-colored suit with all his organs and muscles and arteries and bones on it. I did love his songs ("Food is the fuel that will keep us alive!") and so tried to overlook the fact that I was looking at a naked man with no secondary sex characteristics. I had no idea Slim's still making the rounds.
See the first installment of this series on obscure but amazing '80s TV shows.
This article was originally published on