13 Singer-Songwriters That Give You Everything You Need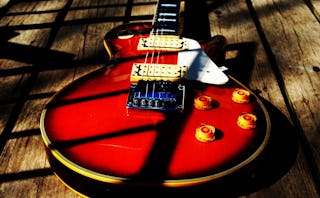 Becca Stevens
© Shervin Lainez
Becca Stevens is one of the most incredible musicians I've ever met or heard. She plays an alarming number of string instruments and has the kind of voice that comes around once a generation. As a composer Becca is legitimately creating a new mold of sound. Her voice and her compositions are full of so much soul and mastery that you may just go home and cry yourself to sleep in jealousy. After you're done drying your tears, though, she'll have just the song to get you through it. Because Becca's nice like that. Don't say I didn't warn ya.
James Tillman
© Lloyd Foster
Subtlety is the name of the game with James Tillman. His sweeping debut EP Shangri La announces Mr. Tillman as a welcome addition to the neo soul movement. There's an almost vintage feel to many of its songs (sure to be from his own jazz training), mixed perfectly with lush strings and Tillman's own beautiful acoustic guitar. All in all it is a stunning debut worthy of your ears. With poignant lyrics, a smooth but extremely powerful lead voice and laid-back grooves, Shangri La will lull you into whatever ease you need.
Jenny O.
© Sam Gezari
Solidly on the pop end of this list's spectrum, Los Angeles-based Jenny O. will give you a modern and badass take on all things good about the '60s. Her utterly captivating voice fulfills everything your inner hippie has been searching for. Throw in quirky and honest lyrics and you've got Dusty Springfield meets Joanna Newsom meets Melanie. My favorite remains this glorious track from her first EP, but her latest album Automechanic is a fantastic go-to as well.
José James
© Shervin Lainez
I may be a bit biased from touring with José James for the better part of 2014. That being said, I truly can't think of one other artist these days pushing the boundaries of his or her fame and fans as much as he is. He is utterly fearless. The only thing that remains consistent in José's incredibly diverse music is his universally recognizable baritone. His most recent album While You Were Sleeping blends indie-rock, soul and electronic music. It is utterly triumphant. Words from someone who sang 20 feet from him and was floored every single night by his equally magnificent live show: Yer gonna want to check this guy out.
Kate Davis
© Shervin Lainez
A brilliant singer-songwriter and bassist, Kate Davis recently covered Meghan Trainor's "All About That Bass" (on an upright bass) and has since become a well-deserved viral sensation. Kate is currently working on an EP of her own songs, and many of them are up already on Soundcloud. She is getting love from some pretty serious heavy hitters, including the great Ben Folds. Keep your eyes on Kate. She is destined for great, great things.
Kimbra
© Thom Kerr
You may know Kimbra as the singer from Gotye's mega-viral "Somebody I Used to Know" or from her incredible first record Vows. Regardless, you should check out her newest album The Golden Echo. It is bolder, more innovative, and provides ample material to sink your teeth into. The Golden Echo's strength is in its musical diversity…the album is a compelling journey taken by an artist seemingly unafraid of risk. Kimbra wails, croons, drives, dances (and blasts in my living room).
Moses Sumney
© Emilio Guerra
Anyone hip to LA's innovative songwriter scene will no doubt already know Moses Sumney. He has stolen the hearts of Angelenos as a solo artist and as Karen O.'s guitar player. Sumney utilizes his ethereal guitar, airy voice and a brilliantly employed loop pedal to create a sound all his own. With a range so impressive it can only bring Prince to mind (yeah, I went there), his music has the harmony of the Beach Boys with the vocal chops of Marvin Gaye. In performance he is a mesmerizing one-man symphony. Check out his new EP Mid-City Island as well as his cover of Beck's "Title of This Song," which is absolutely stunning.
My Brightest Diamond
© Shervin Lainez
My Brightest Diamond's new album This Is My Hand has been my nearly exclusive jam for the past three weeks since I saw her perform solo while I was on tour in Stockholm. She absolutely floored me and everyone else in her audience. Her music is bold. It is fierce. It is courageous and often almost tribal. Above all, My Brightest Diamond's new album is a loud, unapologetic expression of womanhood and power.
Rubblebucket
© Shervin Lainez
Ever wonder what afro-punk indie-rock drenched in synths would sound like? Look no further. To quote the kids these days, Rubblebucket goes hard. Lead singer Annakalmia Traver's spellbinding talents encompass baritone saxophone and vocals (a big hit live, where Rubblebucket absolutely shines). And her band, a funky and innovative mix of instruments, gives ample space to dance. Their new record Survival Sounds is a synthesis of the members' musical talents, including songs born from their trumpet player writing a song a day for a month as well as significant personal struggle. Overall it is a shining, victorious piece of art.
Shaina Taub
© Sasha Aleksandra Arutyunova
At just 26 years old, Shaina Taub has starred in off-Broadway shows, written entire plays, released two successful albums to her name, and had multiple different shows showcasing her very own songbook, including an upcoming one at Lincoln Center. There's a reason the world (and you, hopefully soon) is so enamored with Shaina: She writes purely universal songs. They are deep yet accessible. Soulful yet gentle. And above all, full of passion and incredible skill.
tUnE-yArDs
© Holly Andres
I ran into the ladies and gent of tUnE-yArDs in London when our paths crossed at a BBC Radio 6 recording. They absolutely fLoOrEd me. I've been a fan of the venerable Merrill Garbus since her tour-de-force of a second album Whokill. Said addiction resurfaced with the release of her newest album Nikki Nack. With a touring band of the world's fiercest humans (including the sensational Nathaniel Brenner, Jo Lampert, Dani Markham and Moira Smiley), and an album this powerful, there's nowhere this lady can't go.
Beyoncé
This new, up-and-coming singer-songwriter will have you all over the place and wanting to tell all your friends…
© Dimitrios Kambouris/Getty
No but seriously, Beyoncé's album is one of the best I've heard in the past DECADE. I can't make a songwriter list without including it. So if you haven't checked it out, do yourself a huge favor and get on it. Cheers.
This article was originally published on